Josh Grimmett (OR 2006-2013) receives Grammy nomination for multi-platinum electronic dance hit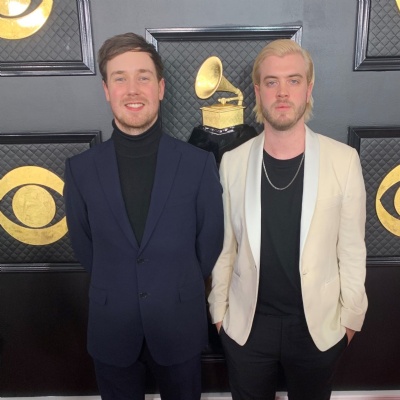 OR Josh Grimmett (2006-2013) makes up one half of the DJ and Production duo Goodboys recently nominated for a Grammy for best electronic dance recording for their multi-platinum single, Piece of your heart, in January this year.
The song written and sung by Josh who collaborated with the Italian production trio Meduza to produce the song. It reached number 2 on the UK Official Charts and has also seen major success worldwide, including:
Argentina - Gold
Austria – Platinum
Australia – 5 x Platinum
Belgium – 3 x Platinum
Brazil – 4 x Diamond
Canada – 2 x Platinum
Czech Republic – Platinum
Denmark – Platinum
Finland – Platinum
France – Platinum
Germany – Platinum
Greece - Gold
Ireland – 7 x Platinum
Italy – 2 x Platinum
Mexico - Platinum
Netherlands – 3 x Platinum
Norway – Platinum
New Zealand – Platinum
Poland – 2 x Platinum
Portugal – 2 x Platinum
Russia – 4 x Platinum
Sweden – 2 x Platinum
Switzerland – 6 x Platinum
Slovakia – Platinum
South Africa – 4 x Platinum
US – Gold
Josh attended Reading School before moving to London to study Geography at the London School of Economics and Political Science (LSE).
Josh reflected on his journey:
"I attended Reading School for 7 years, before moving to London to continue to study Geography at the LSE. I had been in bands with other students whilst at Reading School , some of whom I still collaborate with professionally like Harry Davidson (OR 2006-2013). I continue to make music for fun. After a number of years, the stars aligned and we made this song with my friends Meduza. I have been fortunate enough to tour the world with, performing to all sorts of crowds including at Wembley stadium for Capital's Summertime Ball.

I am extremely grateful to all the staff and my peers at Reading School for shaping me into who I am now, they were some of the best days of my life and I look back with only fond memories."
Mr A M Robson (Headmaster) said:
"Josh has done incredibly well since leaving Reading School, following his passion for music and I am pleased he has been in contact via the Society Office to share his achievements. We are keen to celebrate the achievements of our former students, whether they are making a name for themselves as artists on the world stage, or simply carving out a rewarding career. It fills me and the Reading School community with pride to witness the successes of our former pupils."
We are always delighted to hear from Reading School alumni. By sharing your story, you enhance the aspirations of current students inspiring them to succeed.
If you would like to share your story, please contact Jas or Piatrice in the Society Office at alumni@reading-school.co.uk. Particular interest is in medicine, scientific research, finance industries, computer science, engineering, languages, and the creative arts.
(Photo: Josh Grimmett and his wife Jess on the red carpet at the Grammys)
#ViaRedingensis #ReadingSchoolFamily #BuildingGoodMen #RSKeepInTouch #OldRedingensians #Music @goodboysoff @meduzamusic