How to Thrive at Medical School- Remote Inspire Lecture with Smit Vaiyda (OR 2010-2017)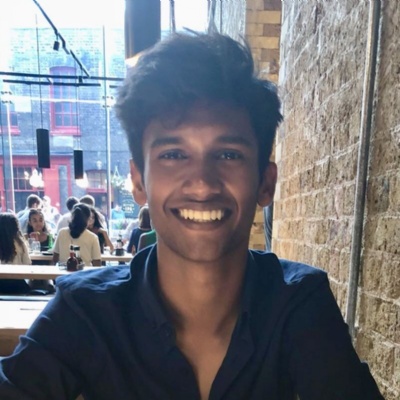 OR medical student Smit Vaiyda (2010-2017) returned to Reading School to discuss life at med school and reveals key advice on what it takes to thrive as a medical student.
Smit completed A-levels in Biology, Chemistry, Economics, and Maths at Reading School, before being accepted onto the MBBS course at the GKT School of Medical Education (KCL). He is currently in his 3rd year and is considering a career as a surgeon. He also has a particular interest in healthcare systems. The latter has led him to the role of President of KCL Leaders in Health - a student-run society that educates medical students and professionals about the important role of entrepreneurship, healthcare policy and management decisions in improving the NHS.
Miss J Pickering (Teacher of Biology) commented:
"Reading School MedSoc and I would like to thank Smit for his illuminating and engaging talk on how to thrive at medical school. He offered well thought out advice on how to make the academic transition from school to medical school but also stressed the importance of self-managing in terms of health, fitness and social activities. He gave our students well thought out tips on how to manage workload, prepare for, and deal with lectures and revise effectively. He even had guidance on how to cope with the absence of a formal syllabus and how to approach anatomy classes.

Students were comfortable asking questions throughout the talk and Smit rounded off the session with some useful suggestions on how to make up for a lack of the usual work experience in our current state of lockdown. Parting comments from the audience were very positive, including a year 13 student writing 'thanks, we need this every year', an opinion I believe everyone shares."
A special thank you to Miss J Pickering (Teacher of Biology) for arranging this lecture and to the Society Office for co-ordinating all online inspire lectures.
In addition, so many former students pursue careers in medicine and scientific research, and we are aware we have a large number of Old Redingensians who have been working on the front line during this pandemic either with the NHS or other key worker roles. Reading School embeds the core values of Excellence, Integrity, Leadership, and Community instilling a sense of duty and moral purpose in individuals, which has been evident throughout the Reading School family pulling together recently.
If you know anyone working on the front line or in key worker roles, please send their name, details of where they work (and the role they have undertaken) and a photo to alumni@reading-school.co.uk. It is important for us to share the incredible work that has been undertaken by our community as we build a board of OR's that have played crucial roles during this pandemic. If you would like to share your story, please contact Jas or Piatrice in the Society Office at alumni@reading-school.co.uk.
If you would like to share your professional expertise, academic specialism or research background with our students through a short talk, master class, tutorial or inspire lecture, please complete the form here: Remote Inspire Lectures.
Please bear with us as we work through our list and make contact with you to arrange dates and times for future talks.
If you have any further queries please contact Piatrice or Jas at events@reading-school.co.uk
#ViaRedingensis #BuildingGoodMen #ReadingSchoolFamily #OldRedingensians #RSKeepInTouch #VirtualLectures #RSMedSoc