World Environment Week 2020-Photo Competition ​​​​​​​​​​​​​​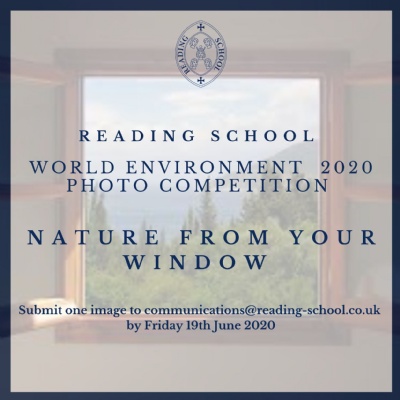 The theme for this year's competition is "Nature from your window". All pupils and families are invited to share their views from their window or doorstep. We recognise the restrictions we currently fact, but it does encourage us to recognise the natural beauty immediately in front of us which we might sometimes neglect to see.
We encourage you to share your photos on twitter by tagging in @readingsch with hashtag #RSWorldEnvironmentWeek2020.
Please also email entries to communications@reading-school.co.uk with your name and form and a short title and caption as to what that photo means to you.
Please submit only one image by Friday 19 June.
The top 5 images selected by our Senior Leadership Team will be showcased on our Internet page week commencing 22 June 2020.
#ViaRedingensis #BuildingGoodMen #ReadingSchoolFamily #UN #RSWorldEnvironmentWeek2020