Applying Machine Learning to Image Classification- Remote Inspire Lecture with Matthew Baugh (OR 2010-2017)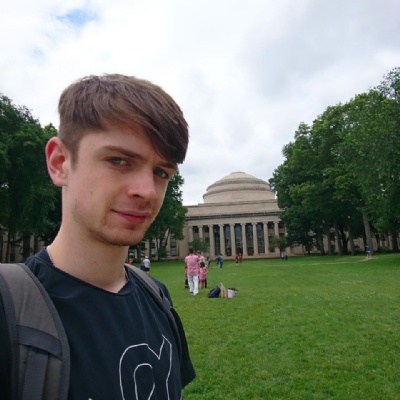 On Tuesday 17th June, we were fortunate to have have Matthew Baugh (OR 2010-2017) present a lecture on machine learning.
Matthew is currently studying for a MEng in Computing at Imperial College London . In 2019, he did a placement at the Massachusetts Institute of Technology (MIT) and did a 6-month industrial placement at software engineering company Bloomberg.
During the lecture, Matthew explained the fundamentals that underpin modern machine learning and applied the principles to practical examples.
During the Q&A session, Matthew was very responsive to students' questions regarding his material as well as about his time at Reading School, life at university and his future career prospects.
Rushil A (12PS) commented:
"Matthew's talk was extremely fascinating; he took us through the theoretical fundamentals of Neural Networks and Machine Learning, and then walked us through a live, working demonstration. He was thrown a huge variety of sophisticated questions by all of the students and provided all of us with more than satisfactory answers every time. It's demystified a lot of concepts I wasn't entirely sure on before and has further solidified my interest in Computer Science. I hope to see more talks from him in the future."
Mr A M Robson commented:
"Our Alumni is one of our most valued assets and we are grateful for their contribution to current Reading School pupils and wider community. With Computer Science applications to University increasing year on year, I thank you Matthew for inspiring and sharing your knowledge about 'machine learning' with current pupils with practical tips."
The Jupyter notebook containing the code from the lecture is available at Matthew's GitHub repository: Matthew GitHub Repository. From there you can either clone it using git or download the project as a zip file.
A special thank you to Mr S Ling-Winston (Head of Computer) for arranging this lecture and to the Society Office for co-ordinating all online inspire lectures.
If you would like to share your professional expertise, academic specialism or research background with our students through a short talk, master class, tutorial or inspire lecture, please complete the form here: Remote Inspire Lectures
Please bear with us as we work through our list and contact you to arrange dates and times for future talks.
If you have any further queries please contact Piatrice or Jas at events@reading-school.co.uk
#ViaRedingensis #BuildingGoodMen #ReadingSchoolFamily #OldRedingensians #RSKeepInTouch #VirtualLectures #ComputerScience #RSInspireLectures