World Environment Week Competition 2020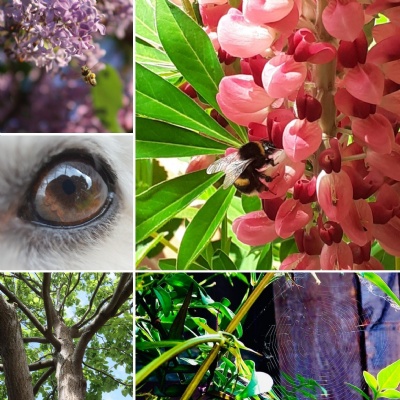 We are delighted to announce the students who submitted the top 5 images for this year's "Nature from your window" photo competition.
The students who submitted the top 5 images were:
1st Matthew Grove (11C)
The beauty of the eye – so natural
Caption: Appreciate the wonder of life
2nd Aarav Somani (10C)
A Busy Bee having a field day out.
Caption: This image shows me that even during these trying times, there are still beautiful things all around us, and it also proves to me, that even with all the things going on in the world, nature keeps on moving.
3rd Harry Langdon (9S)
This photo was taken from my front door and shows a flower that I have nurtured into its current state of beauty, along with a very welcome visitor.
4th Siddhart Mathur (8L)
Unseen Beauty
Caption: This picture means something to me as in our day-to-day lives, we hardly notice the beauty around us like trees. We hardly stop to notice the intricate patterns of bark on the trunk or the armies of leaves on the branches. I feel that it is the responsibility of Photography to show us the beauty of the world around us no matter how restricted we may be and to make us want to protect it.
5th Bhavin Bojanpalli (8L)
Surrealistic Spider
Congratulations to our winners for 2020. Thank you to everyone that submitted their photos as a part of our photography competition to mark United Nations World Environment Week 2020. We have been impressed with all the entries and staff commented on how difficult the selection process was, due to the excellent submissions. 
#RSWorldEnvironmentWeek2020 #ViaRedingensis #ReadingSchoolFamily #Nature #Photography