Mathematical Proof- Remote Inspire Lecture with Michael Smith (OR 2004-2011)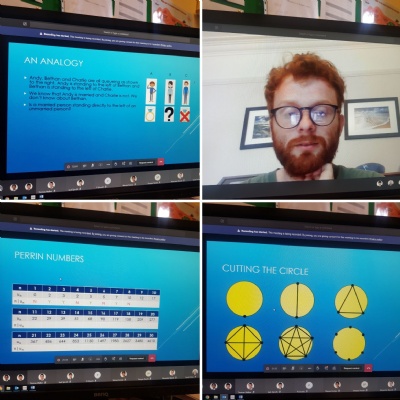 On Monday 29th June, we were lucky to have Michael Smith (OR 2004-2011) present an informative lecture on mathematical proof.
Michael Smith left Reading School in 2011 with A Levels in Maths, Further Maths, Chemistry & Physics. He studied at the University of Oxford, specialising in Pure Maths and graduated in 2015. Michael is currently a Maths teacher at Highgate School in London.
During the lecture, Michael presents examples of why proving something to be true is essential. Using the cutting the circle problem and Perrin numbers, he demonstrated that patterns that initially appear to follow a rule do not always keep this pattern.
Michael also introduced proof by contradiction, specifically showing a visual proof that the square root of 2 is an irrational number. This is topic was beneficial for our Year 12 maths students as it is a part of the A level Maths syllabus.
During the final part of the lecture, Michael demonstrated how it is possible to prove that two expressions are the same using story-telling. He introduced some new notation to the younger year groups, including the sigma notation for sums, and showed them how you can work out the number of ways of choosing R items from N different options. Finally, he introduced some complicated story-telling proofs using light bulbs and choosing teams of men and women.
After the lecture, students were given the chance to ask questions. Many asked questions concerning the Oxbridge application process. When asked why he chose to study Maths at Oxford instead of Cambridge, Michael's response was of course:
"Because Dr Mathews told me to!"
Arkin F (12TA) commented:
"The lecture gave a great insight into something which lies at the foundation of maths, and was particularly interesting since proof is an area not covered in great detail until university. Learning about the importance of establishing proofs was fascinating especially when it came to the Perrin numbers since although intuition suggested a pattern of correlation with the prime numbers, all it took was a single outlier on a very large scale to deny this. Hence this was useful in showing that without proofs, such irregularities could still exist and pose the danger of not only disproving the proposition but also toppling any further arguments based on it."
Vamshi D (12TA) added:
"Michael introduced proofs, their beautiful nature and their importance to mathematics in an understandable, yet deeply insightful, way. To explain proof by contradiction, Michael used the example of proving sqrt2 was irrational. While I had come across this problem before, the way in which he represented the contradiction visually using squares of different sizes was very interesting, especially when he represented the irrationality with the leftover area that reduced in size after every iteration, but never completely.

He also talked about proofs by storytelling, where in order to prove two things are equal, it is demonstrated that they are simply two different ways of representing the same set. I found this especially intriguing as he related combinatorics and summations, two different areas of mathematics I had come across before in lessons.

Overall Michael's lecture presented the beauty of different types of proofs and how they highlighted the inner workings, and sometimes the unpredictability, of mathematics in a thought-provoking way."
Thomas W (12JM) also added:
"As suggested by the lecturer I went on to prove some of his points through induction, this introduced me to some neat identities. Furthermore, the first visual proof regarding the irrationality of root 2 I found insightful, it linked to the ideas of proof by infinite descent that I have previously encountered. Therefore, for me the lecture had the effect of linking different ideas. Moreover, I found the method of proof by storytelling remarkably simple in comparison to the identities he was trying to prove, highlighting the sometimes counterintuitive nature of mathematics."
Mr AM Robson (Headmaster) said:
"Michael was an extremely intelligent and dedicated student who always had the school community at heart. It is a pleasure to see how he has proceeded with the same passion during his studies at university. I am happy knowing that the education of the next generation of mathematicians is in good hands."
A special thank you to Mrs S Parker (Head of Maths) and the Society Office for coordinating all online Inspire Lectures.
If you would like to share your professional expertise, academic specialism or research background with our students through a short talk, master class, tutorial or inspire lecture, please complete the form here: Remote Inspire Lectures
Please bear with us as we work through our list and contact you to arrange dates and times for future talks.
If you have any further queries please contact Piatrice or Jas at events@reading-school.co.uk
#OldRedingensians #ViaRedingensis #BuildingGoodMen #ReadingSchoolFamily #RSKeepInTouch #RSInspireLecture #RSMaths @UniofOxford