Reading School is awarded Gold Status as a TeenTech Centre of Innovation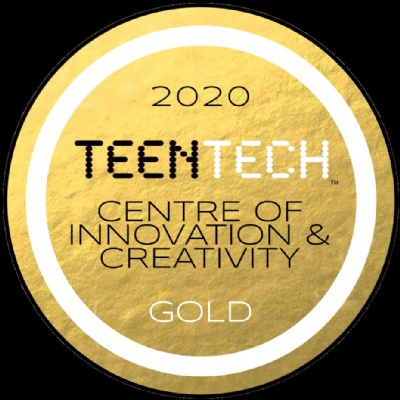 We are delighted to announce that Reading School has been awarded Gold certified status as a TeenTech Centre of Innovation.
The award is given in celebration of schools that TeenTech believe go the extra mile in encouraging their students. Gold certified status is awarded to centres that:
Encourage other named schools, colleges or libraries who are not already engaged with our TeenTech Award or TeenTech City of Tomorrow programmes to register and participate. These schools should clearly indicate that you made the introduction when they register or enter their teams for the respective programs and that you are a TeenTech Centre of Creativity and Innovation.
And/or
Provide an opportunity for your TeenTech Award or Young TeenTech Ambassador students to do a short presentation to one or more schools, companies or organisations (we can provide a structure which your students can personalise)
This is the second consecutive year Reading School Students have won gold in their chosen category; Samuel Amos- Osebeyo (9W) was recently named winner of the TeenTech Safety and Security Award 2020 for his Cost-Efficient Search and Rescue Robot design and Sida Li (10E) also won the TechTech Data Science Award in 2019 for his Speed Bot app.
A massive congratulations goes to Mr Stephen Ling-Winston (Head of Computer Science) who won a TeenTech Teacher of the Year award.
We look forward to seeing our students participate in the 2021 TeenTech Awards.
To view the souvenir programme for the TeenTech Awards, please click here.
If you are interested in joining in with the competition, then visit the TeenTech website and get in touch with Stephen Winston-Ling (Head of Computer Science)
#ViaRedingensis #BuildingGoodMen #ReadingSchoolFamily #TeenTechAwards2020 #Excellence