Year 7 Team runners up of Vodafone Digital Creators' Challenge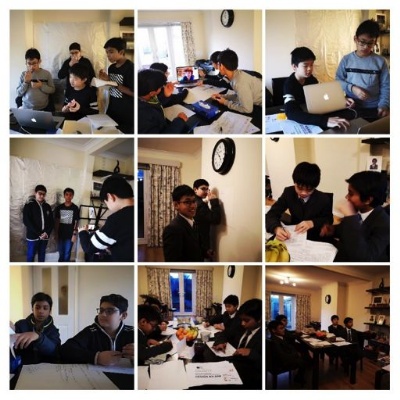 We're delighted to reveal that a team of Year 7 students have been named as runners up of the Overall winner award for their CollabCar app.
The competition supported by Vodafone, ran from September 2019 to January 2020. It aims to challenge teams of pupils aged 11–14 to create and design an app to improve lives in their community. Students must commit to five one-hour sessions after school where they design and make the prototype for their app.
The team consisted of 7S students:
Aditya P – Team Leader
Rujul N – Communicator/Designer
Isaac H – Designer
Aryan P – Chief Researcher
Emlyn J – Researcher
Identifying a problem
The team identified a problem with how students were getting to school and aimed to make transportation more time efficient and environmentally safer. According to the team, "Reading is often over-congested during the rush hour leading to pollution and occasional roadside accidents near our school. Often, parents are driving in the same direction without knowing about the other parents taking the same route adding to the pre-existing traffic problem.
Another problem is the fact that many parents don't own a car and their children are missing out on extra-curricular activities due to a lack of public transport. Many parents are also very busy with work and do not have time to drop their kids to school or arrange a car share. They also don't wish to make their kids take public transport as it will take too long for their kids or due to safety concerns."
Finding a solution
Ultimately, the team designed CollabCar, an app designed for parents to share car rides to school to aid in transportation and low carbon emission. This would also allow parents to socialise with one another and be able to rely on each other for helping their child get to school.
Pitching their idea
After coming up with the concept of their app, the team sketched their design on paper before creating a prototype online using AppLab. They then delivered a 30-second elevator speech before creating a 1-minute commercial.
The Results
Our Year 7 students impressed the judges with the simplicity of their App and how they identified a real community need, whilst covering safety and security. The judges were so blown away by the standard and quality of their entry that they were award £1000 worth of IT vouchers to spend on IT equipment for the school as runners up of the overall competition.
What the team had to say:
Rujhul N (7S) said:
"The Digital Creators' Challenge was a great experience. It helped us work as a team, get creative and use our Computer Science skills to create an app that solves a problem in the community. It also taught me new skills, while being really fun all the way."
Aditya P (7S) added:
"The Digital Creator's Challenge was a wonderful intuitive competition. This was a really good experience and along the way evolved into a team building and problem-solving. This was an amazing journey and I just want to say a special thanks to: Rujul, Aryan, Isaac and Emlyn for working hard and individually contributing to win such an award for the school."
Aryan P (7S) commented:
"My experience in the Vodafone Challenge was excellent. It was the first time in my life I had done such an event. My favourite part was how well we worked together and the creativity behind everything from the elevator pitch to the actual app."
Isaac H (7S) said:
"This competition was great fun for me, and I enjoyed the experience of designing an app. I had never done anything like this before, so I learnt a lot from this competition."
Emlyn J (7S) also said:
"This was a great experience for me as it was my first time helping a team complete a coding project. I hope to do more projects like this in the future."
Mr S Allen (PE Teacher & Head of School House) said:
"As we continue to ride the wave of innovation in the digital world, I am truly impressed by the creativity these boys have demonstrated, first for taking the initiative to enter and secondly for showcasing their abilities and then to receive acknowledgement and recognition for their talents by reaching runners-up in The Digital Creators' Challenge.

This competition links to real world careers and meets the Gatsby Benchmarks 2, 4, 5 and 6. I thank Vodafone for this initiative and for collaborating with Schools like ours to engage with students to prove innovation, creativity and excellence."
Mr A M Robson (Headmaster) said:

"Congratulations to Aditya, Rujul, Isaac, Aryan and Emlyn, for their outstanding collaboration with each other as well as entrepreneurial and innovative skills in developing the CollabCar app as a part of 'The Digital Creators' Challenge 2020' run by Vodafone. This is an excellent example of students displaying creative thinking and aligning this with a need for community action. It is undeniable that the boys have clearly considered the potential economic and environmental benefits of the CollabCar app.

Thank you for your hard work and winning £1000 for the school to spend on much needed IT equipment, whilst demonstrating, excellence, integrity, leadership and community through your actions."
A special thank you to Mr S Allen (PE Teacher and Head of School House) for supporting our students.
To watch Vodafone's video announcement of the winning schools, click here: Vodafone UK Foundation- Video Announcement
#ViaRedingensis #ReadingSchoolFamily #BuildingGoodMen #Excellence #DigitalCreatorsChallenge @VodafoneFdn @VodafoneUKLife