Class of 2010 Virtual Reunion: Friday 14th August 2020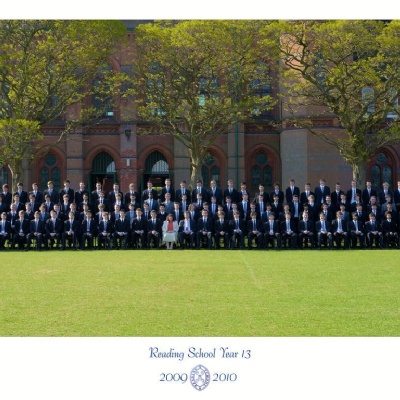 The Society Office would like to invite the Class of 2010 to a 10-year virtual reunion!
It's been 10 years since you graduated from Reading School and started your adventures in the world.
We are so sorry that the current situation means that you can't come along to Reading School for an afternoon of feasting, reminiscing and a tour of the site but don't worry, we are still planning a full reunion when it's safe to gather in person again!
Until then, we are excited to be able to offer you the following virtual reunion experience on:
Friday 14th August 2020
From 18.00 to 20.00
Get ready to reconnect with old classmates and catch up with friends and teachers. We appreciate nothing can quite compare to an in-person reunion but we especially wanted to mark your 10-year anniversary and therefore have created an online reunion program on Zoom.
Please see the proposed Reunion Program below:
18:00 to 18.15
Headmaster's Welcome
Join the Headmaster and your former classmates in Big School (the main chat room) to hear the Headmaster's address. Bring your favourite beverage for a virtual toast to the Class of 2010.

18:15-18.20
Adam Wright (OR 2003-2010 and Alumni Ambassador)
Welcome words from Adam Wright (Alumni Ambassador for Class of 2010).
18.20 to 18.45
House Meeting
You will be automatically assigned to a room according to your respective Reading School House: West, East, School or County.

18:45 to 19.50
Break Time with your former teachers
You will be redirected to Big School every 15 mins where you can join any breakout room around the school where you will find some of your former teachers lurking about!

19.50 to 20:00
Final words and goodbyes
Say goodbye to your former classmates and teachers. Find out ways to stay in touch for the latest updates on in-person reunions and our 900th anniversary in 2025.
Instructions to connect to the Zoom meeting will be shared by Thursday next week.
This is a free event and we only require you to sign up to the Reading School Alumni Network portal to register: Reading School Alumni Network: Registration
If you did originally purchase a ticket for the 2010 Reunion, you can either request a refund at the email address below or donate this to Reading School at: Make donation to RS or the Future Stories Support Fund at Donate to the Future Stories Support Fund. We welcome all gifts, small or large. Please reference donation with your full name and Class of 2010.
A special thanks to Adam Wright (OR 2003-2010) for helping the Society Office organise this reunion.
#ReadingSchoolAlumni #ReadingSchoolFamily #Reunions #OldRedingensian #FloreatRedingensis #RSKeepInTouch