Reading School A Level Results Day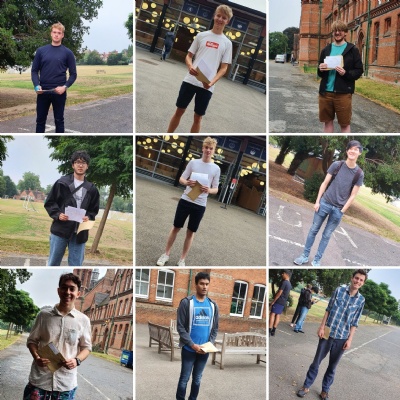 In a unique set of circumstances, Reading School Sixth Form students are celebrating a fine set of A Level results published today.
These results reflect the quality of work undertaken by pupils and teachers who have worked hard to compile persuasive evidence to underpin calculated grades submitted. The cohort of 171 candidates, the largest ever, have shown resilience, exceptional understanding and a real sense of community.
Overall, 91% of all entries were awarded A*- B grades, with 35.8% at A* and 73.3% at A*-A. In addition, 80.7% of candidates gained at least AAB.
English, Geography, Music and Languages had an impressive year. English Literature, French, Geography German, Latin, Music and Spanish all achieved 100% A*-B. Also, 95.8% of historians achieved A*-B and 98.2% of Economics students gained A*-B.
In addition, the traditional strengths in the Maths and the Sciences continued with 46.4% of A Level Maths grades awarded A* and 90.4% at A*-B. Whilst, in Further Maths 47.5% gained A*. Furthermore, 71.7% of students of Biology achieved A*-A, 82.7% of students of Physics and 90.5% of students of Chemistry gained A*-B. In Computing 67.9% gained A*-A and 85.7% achieved A*-B.
One of the most pleasing aspects was that 100% of candidates studying languages gained A*-B grades. French, German, Latin and Spanish were studied to A Level. Undoubtedly, this bucks a national trend of a decline in languages, especially for boys.
Ashley Robson, (Headmaster) stated:
'It has been great to see so many of our Year 13 students returning to collect results this morning. I want to express my congratulations to all our students after what has been undoubtedly an unprecedented year so far. Many expressed their relief this morning, after what has been a challenging time.

Thank you to all the staff and in particular our Sixth Form team for their dedication and commitment on working with our students over the past year and to parents for all of their guidance and support.

Thanks are also due to the Governing Body for their continued support and challenge in ensuring that Reading School continues to flourish.

I wish all our students the very best for the future as they embark on the next chapter of their lives.'
With reference to individual success stories Tom H gained 5 A*s and Sam S, Alex S, Hao Y, Nikhil P, Siddharth S, James B gained 4 A* grades in. In addition, Shreyas P, Hamzah A gained 3 A*s with Oliver E achieving 3A*s and an A.
Joel B gained 4 A* grades in Biology, Chemistry, Mathematics and Further Mathematics. Joel was also Laud House Captain being an exemplary role model and joined us in Year 12. Joel will be moving on to read Medicine at Churchill College, University of Cambridge.
Joel B (Year 13) said:
"I came to Reading School with a great deal of ambition and many hopes and dreams - but certainly with nervousness and doubts. However, through the last two years, the excellent teaching I have received and every single opportunity I was given to develop my courage and confidence, such as being House Captain, have spurred me forward and I am proud to leave Reading School with my head high and with a bright perspective for my future.

One thing is simple at Reading School, regardless of your socio-economic background the school strives to reward those with true initiative and aptitude for learning, characteristics that may not come naturally to all, but will be bold in you after your time at Reading School.

I have nothing but heaps of gratitude to the wonderful staff who helped me to progress into the next stage of education, and will forever remain a proud Redingensian.

Thank you Reading School!"
Joe I (Year 13), achieved 5A* grades in Chemistry, Computing, Mathematics, Further Mathematics and Physics. Joe is one of our brightest and best students following in the footsteps of his brothers. Joe will be reading Natural Sciences at Robinson College, University of Cambridge.
Joe I (Year 13) said:
"I'm really pleased with my results and although I'm disappointed to have missed out on the last days of Sixth Form, I am ready to move on to university now. Thank you to all my teachers and staff at Reading School."
Mr A LIoyd, (Head of Sixth Form and Assistant Head) praised the sixth formers:
'Our students have coped magnificently with the extraordinary circumstances they have faced this year. I am immensely proud of them for the way they have dealt with all of the uncertainty and know that had they been given the opportunity to sit their exams in the normal manner, they would have achieved exceptional results. As it is, they deserve tremendous credit for all of the successes they have achieved through this unusual process. We know they will go on to make hugely positive contributions to wherever they go next.

We very much hope to be able to see them all again for a proper good bye sometime soon.'
Dr Chris Evans, (Deputy Headmaster) commented:
'We wish all our students well in the next stage of their lives, whether that be at University, on a gap year or in employment.'
A huge congratulations to the Class of 2020 from everyone at Reading School.
We are continuing to work to expand our alumni network as our current and former students are our biggest ambassadors. To remain connected to Reading School and our Old Redingensians community whose network and wisdom may be of profound benefit in the future please join our Reading School alumni through LinkedIn and connect with a world of opportunities through people and knowledge by joining the Reading School Alumni Society.
For photos from this morning please click: A Level Results Day 2020 Photo Gallery
#Alevelresultsday2020 #ReadingSchoolFamily #OldRedingensians #RSKeepInTouch #ViaRedingensis #BuildingGoodMen