Reading School holds first Virtual Reunion for Class of 2010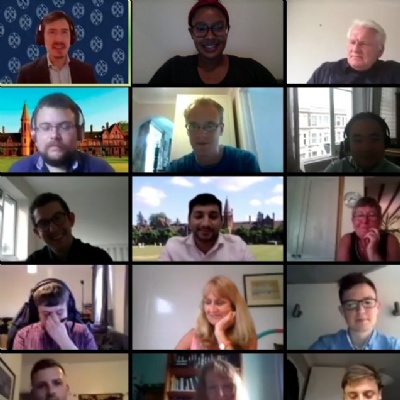 On Friday 14 August, we were delighted to host a 2-hour virtual meetup with over 30 alumni and staff online in-lieu of an in-person reunion due to the current pandemic.
This was the first online reunion held by Reading School on Zoom to mark the 10-year milestone for the Class of 2010, which was originally planned to take place in June with our 150th anniversary celebrations, before the Coronavirus outbreak.
In a newfound world of social distancing, the Society Office was able to arrange a digital reunion experience that connected friends, classmates, and teachers. We commenced the evening with a short welcome message from Mr A M Robson (Headmaster) reflecting on how Reading School has changed over the last 10 years, in terms of the buildings that are now a part of the school. He gave a quick overview at how quickly and efficiently the teachers and pupils have adapted during the pandemic, switching to online learning. He also spoke about the phenomenal voluntary and philanthropic work that has been undertaken during this time by the whole school community. Followed by welcoming words from 2010 Alumni Ambassador, Adam Wright (OR 2003-2010) before the group was split into Zoom 'breakout rooms' named after Houses and memorable areas of the school. Participants were able to pop in and out of virtual rooms to chat with former teachers and peers.
Reflecting on the experience, Adam Wright (OR 2003-2010) said:
"I was very satisfied by how smoothly the reunion went. It was a pleasure to catch up with some familiar faces, and I was especially gratified that so many of our former teachers joined in as well. I have high hopes of even more attendees when we manage to meet up in person."
We were overwhelmed by the fantastic attendance of alumni and staff that tuned in from all over the UK as well as France and Germany.
Mr AM Robson (Headmaster) commented:
"There was no better time to have former students and staff reconnect and deepen their relationship with each other and with Reading School. I would like to personally thank, Mr N Holt, Mrs A Hardwick, Mrs M-C Maunder, Miss J Pickering, Mr S Longstaff, Mrs C Fooks, Mr B Pike and Mrs J Green for taking the time to reconnect with the Class of 2010.

It is especially important now, while we have all experienced some level of isolation over the past months, to remind ourselves of the relationships we have built over the years and to connect with the places and people we care about or have affected our lives.

Whilst the reunion was not the same as an in-person reunion, there were some benefits to Zoom, allowing former teachers and Old Redingensians to connect from anywhere, as well as providing a relaxed, informal platform to catch up with our exceptional former students and learn about what they have done and listen to some remarkable journeys.

Thank you to all the Old Redingensians and staff who made the reunion so special and thank you to Ian McKinnon (OR 1977-1982 and President of the Old Redingensians Association) for joining us too.

Special thanks to Alumni Ambassador, Adam Wright (OR 2003-2010) who worked with Jas and Piatrice from the Society Office to re-organise the reunion so a virtual event could take place for now."
It is clear, that former classmates and friends were eager to catch up with one another and reminisce about their nostalgic times at Reading School, with the Class of 2010 gathering lasting nearly 2 hours and we are sure this could have lasted longer!
Classes that end in a 1 or 6, who will be celebrating reunions in 2021, please do get in touch so we can start to help plan these events whether this is remotely or in-person (if permitted). We really hope that we can invite Class years ending in 0s, 5s, 1s, and 6s to celebrate their milestone reunions together during 2021 next year.
Interested in becoming an Alumni Ambassador to help organise your milestone reunion? Please contact Jas Chhokar (Society Manager) or Piatrice Hutchinson (Society Assistant) at alumni@reading-school.co.uk.
Unfortunately during the current pandemic we cannot encourage any unnecessary visits to the School, however we look forward to welcoming you back when our beautiful Reading School is fully accessible and we are able to provide in-person reunions and/or School tours. In the meantime, if anyone is interested in meeting over Zoom, we would like to help arrange a virtual reunion for your year group, then please do get in touch with Jas or Piatrice at alumni@reading-school.co.uk.
We encourage all Old Redingensians to join the Reading School Alumni Society to keep updated on news, events, mentoring, careers and networking opportunities.
With a growing community of over 1700 Reading School LinkedIn alumni, please join or follow us at:
#ViaRedingensis #OldRedingensians #ReadingSchoolAlumni #ReadingSchoolFamily #Reunions #RSKeepInTouch #FloreatRedingensis