Reading School's Future Stories programme is raising aspirations with local primary school children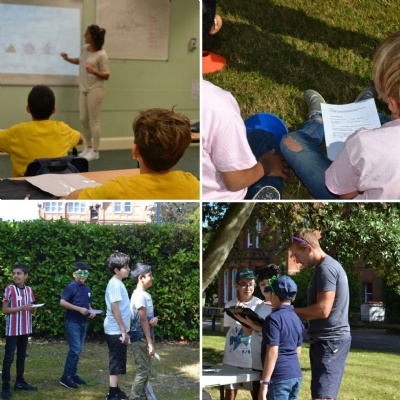 For the last 2 weeks of August, Reading School has welcomed over 40 primary school children, from local Reading Schools, onto our site, to take part in interactive workshops and exercises.
These are developed to provide boys from across Reading with the opportunity to take part in a range of learning opportunities, to build relationships with other students and to develop their confidence in advance of the return to school in September. These boys have taken part in a range of Maths, English, Verbal Reasoning and team building sessions and it has been great to see how they have developed in confidence across the two weeks.
The boys have been working in small bubbles of 6-8 students and have each taken part in activities over two days.
These summer sessions, staffed by 8 members of the Reading School teaching community and Path Hill outdoors, have been built on the success of our online mentoring program that was developed during lock down in an attempt to reduce the attainment gap that was widely discussed in the press. These weekly mentoring sessions were run by dedicated staff and sixth form students who took the lead in mentoring and coaching Year 5 students who accessed the sessions from home, with parental support.
Around 200 hours of service was offered through this scheme over lock down and in excess of 50 local students, at risk of disadvantage and isolation were supported on a weekly basis. Some students received laptops, donated by members of the Reading school community to enable their access to these sessions and to address the digital divide.
In a normal school week, in a typical academic year, we work with up to 15 local primary schools connecting with around 150 children on a weekly basis to provide reading buddies, additional support in class and Maths and English activities targeted at students identified by classroom teachers. Whilst we hope to get back into our partner primary schools in the months ahead, we now have a mentoring program that can work online and which we hope to develop further in conjunction with local schools. This enables our sixth form students to contribute to their local communities and opportunities such as this are integral to our Building good Men program which encourages students to Learn, Lead and to Serve.
As a school we are passionate about supporting the attainment of local students, our Flagship 'Futures Stories' Social Mobility Programme for Pupil Premium and Looked After or Previously Looked After Children, is now in its fifth successful year. The COVID-19 crisis has focussed our attention - this year we are determined to do more and do it better, using the creativity of students and staff to find new ways to engage students and schools in the productive learning and mentoring activities on offer.
The opportunities provided encompass our four pillars of Excellence, Leadership, Integrity and Community and across the phases, boys and girls from local primary schools are given taster days, mentoring from our sixth form ambassadors and finally familiarisation sessions delivered by Reading School teachers.
Any Pupil Premium, Looked After or Previously Looked After Child who registers to sit the entrance test for 2021 entry, should be aware that the pass mark for them is five marks below the cut off point for students in the other categories of the oversubscription criteria of the admissions policy.
We offer the Earth, Water and Fire Summer Camp for Pupil Premium and Looked After or Previously Looked After Year 5 boys who have applied for the Reading School entrance test.
A huge thank you to Greg and Dave from Path Hill for their partnership in enabling us to deliver this programme.
Also, a special thanks to Dave from Ryman's in Reading for sourcing some fantastic resources for our Future Stories summer camp.
We are extremely grateful to Reading School staff and teachers who have been actively involved and making this programme a huge success. Thank you to Georgia, Owen, Kristin, Clara, Susan, Ethan and Kees as well as Tom, Lizzie and Caroline for their leadership and co-ordination.
We continue to be committed to enhancing social mobility through education and would like to thank students, parents, Old Redingensians and especially the Reading Foundation for their generous support in assisting to advance education for all.
We are also delighted to have been shortlisted in the 'School/College of the Year' category as a part of the UK Social Mobility Awards 2020, sponsored by BNP Paribas. We are both honoured and humbled to be recognised for our work in advancing Social Mobility through our Future Stories programme.
If you or your organisation want to help Reading School elevate our Future Stories programme to enable us to impact future stories of all children, whatever their background, then please contact Tom Evans at tevans@reading-school.co.uk. We need your support to continue to make a difference.
#ViaRedingensis #FutureStories #ReadingSchoolFamily #SocialMobility #SOMO #MakeaDifference