Sida L (11W) finalist of the BT Young Pioneer Award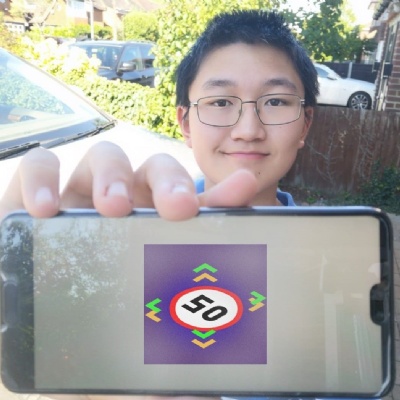 Congratulations to our BT Young Pioneer Award finalist Sida Li (11W) who has been shortlisted for this years' prize.
Since April 2019, Sida (11W) has developed over 60 versions of his app, Speed Bot, which aims to reduce the number of traffic fatalities in two ways, and helped him win the 2019 TeenTech Data Science Award. It is free-to-download on the Google Play Store.
The Abilitynet Tech4Good Awards highlight the wealth of charities, businesses and volunteers across the UK that use the power of technology to improve the other people's lives. The awards include the Young Pioneer Award, sponsored by BT, which aims to find young people between the age of 9 and 18 who have come up with great tech ideas.
To show your support, please click here: Speedbot Crowdfunder. You can get your name into the app, get access to early versions, or join a talk on neural networks. Every donation goes towards training better neural networks, as well as funding an open-source traffic sign training database. This ensures that better quality training data is provided for not only Speed Bot but also eventually researchers and self-driving car AIs, which would shape road safety. The crowd-funding campaign ends on the 23rd September 2020.
Applicants for these awards needed to demonstrate how their idea is improving lives, society, or the environment, and had to explain how their idea meets a need or problem they care about of the future.
The winners will be announced on the 24th September 2020 and will receive £5,000 of tech to help scale their projects.
Good Luck in the final Sida!
#ViaRedingenis #ReadingSchoolFamily #BuildingGoodMen #BTYoungPioneer @AbilityNet