Monetary Policy in a post Covid-19 World- Virtual Inspire Lecture with Robert Hills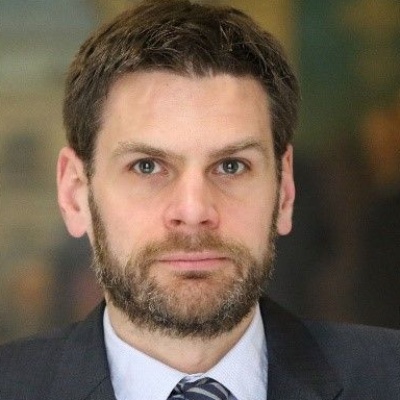 Last Monday, Robert Hills presented a virtual Inspire Lecture to Year 13 economists on the operation of Monetary Policy in a post Covid-19 World.
Robert has been a Senior Manager of the Interest Rate and Asset Pricing Team in the Bank of England's Monetary and Financial Conditions Division since 2018. He previously managed the European Economics Team (2014-18) and the Capital Flows and Emerging Markets Team (2010-14). Between 2008 and 2010, he was seconded to the IMF, as Adviser to the UK Executive Director. He originally joined the Bank of England in 1997, and has worked in a number of roles in the monetary policy and financial stability areas. He holds a BA from University of Oxford and an MSc in Economics from the London School of Economics and Political Science (LSE).
Year 13 student Ben H gave a review of the lecture:
"Robert's lecture was originally scheduled for March, but due to Robert's role in helping the banks respond to the economic impact of Covid-19 it had to be postponed. Since the start of lockdown, the outlook for Britain's economy has changed drastically and these changes were reflected in a talk that focused on the Bank of England's response to the Coronavirus crisis.

In March, as markets began to wobble and lockdown loomed, the Bank of England acted to ensure that bond markets remained stable and to minimise the fall in output as a result of Covid-19. Robert explained the process the Bank follows in making decisions on monetary policy, as well as the reasons behind the Bank's headline-grabbing decisions in March.

During the lecture, Robert explained how economists determine the efficacy of different monetary policies, and walked the students through possible policy options the bank might adopt in the coming months to further protect the economy from the shocks caused by a second wave of Covid-19 and the looming threat of a no-deal Brexit.

The talk ended with Q&A on topics ranging from negative interest rates to the current level of inflation. The talk provided Year 13 economists with a fascinating insight into monetary policy and how economists use data to evaluate choices in the real world. Thank you, Robert!"
A special thank you to Mrs A Cash (Head of Economics) for arranging this lecture and to the Society Office for coordinating all Inspire Lectures.
If you would like to share your professional expertise, academic specialism or research background with our students through a short talk, master class, tutorial or inspire lecture, please complete the form here: Remote Inspire Lectures
If you have any further queries please contact Piatrice or Jas at events@reading-school.co.uk
#ViaRedingensis #BuildingGoodMen #ReadingSchoolFamily #RSInspireLecture #Economics