Students raise an outstanding £4.5K in support of mental health charity YoungMinds ​​​​​​​​​​​​​​​​​​​​​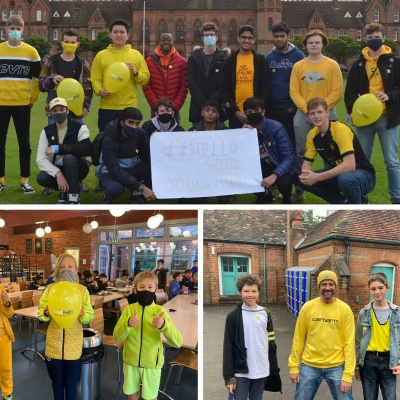 They have raised a total of £4,620 (including Gift Aid) since setting up the JustGiving page a week ago, doubling their initial £2,000 target.
Ben H (Charity Prefect) said:
"The most important effect of the day was starting conversations about mental health between pupils. Young people are particularly vulnerable to mental health issues, particularly due to the uncertainty at this time so talking about how you're feeling is very important."
Suyash S (Community Prefect) also said:
"The generosity shown by the Reading School family has been nothing short of outstanding. The compassion and charity of the students and their families have allowed us to raise a significant amount to fund the wonderful initiatives held by the YoungMinds charity. We hope that by having held a series of events in the build-up to World Mental Health Day, we have raised awareness of the importance of emotional wellbeing.

I would like to thank the Prefect Team, Mr D Mcgall (Assistant Head) and the brilliant Society Office team for all their support - we are grateful for such a tremendous start to our charitable endeavours!

Floreat Redingensis!"
Mr AM Robson (Headmaster) said:
"Thank you to the Reading School community who responded with passion and commitment to raising funds for the inspirational Young Minds charity through the #HelloYellow fundraiser.

Thank you especially to Ben H (Charity Prefect) and Suyash S (Vice-Captain and Projects & Community Prefect) who played important leadership roles in the process.

The COVID-19 pandemic is an uncertain time for all of us, and with the right help and support, we can get through this. The most important message, for young people and adults alike, is that you should talk to someone you trust if you are struggling."
A huge thank you to those who donated in support of young people's mental health and a special thank you to Ben H, Suyash S, Rohan C (Communications Prefect) & Matthew G (Head Pupil Librarian) for their efforts in organising this fundraiser.
#ViaRedingensis #ReadingSchoolFamily #BuildingGoodMen #helloyellow @YoungMindsUK