The Frank Terry Memorial Inspire Lecture with Ian House (OR 1954-1961) October 2020​​​​​​​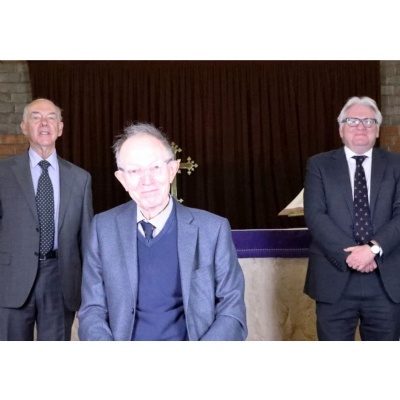 Reading School was delighted to welcome back Ian House (OR 1954-1961) after 59 years, to deliver the annual Frank Terry Memorial Lecture.
The Frank Terry Memorial Lecture is an annual lecture series in memory of the late Frank Terry (History Teacher and Boarding Headmaster from 1946-1982). This year, the lecture was delivered by Poet Ian House (OR 1954-1961) and filmed in the Chapel in line with social distancing regulations.
Born in Reading, Ian read Philosophy, Politics and Economics at St John's College, University of Oxford before embarking on a thirty-year teaching career in various secondary schools, across England, the United States and Eastern Europe.
On taking early retirement, he taught English in Moscow, Budapest and Prague and, on returning to England, began writing poetry. His three collections, all with Two Rivers Press, are Cutting the Quick (2005), Nothing's Lost (2014) and Just a Moment (2020).
Ian speaks with fond memories of Reading School and the influence of Frank Terry. He delivers a fascinating lecture, titled, Poetry, Politics and Enlargement, detailing the relationship between poetry and political/social issues. Ian draws on major historical events from the Holocaust to recent civil rights movements like Black Lives Matter movement as he demonstrates how poetry can shift our perspective and deepen our understanding of such issues.
Mr AM Robson introduced the lecture with some words followed by Francis Terry (Son of Frank Terry).
The lecture is now available to watch on Vimeo. Please click here: The Frank Terry Memorial Lecture - with Ian House
Mr A M Robson, Headmaster said:
"Whilst the lecture, unfortunately, did not take place in the usual setting with students and members of the community present, Ian eloquently spoke with passion and inspiration and it was an honour to have him back at Reading School. Ian commented that, whilst we are all experiencing so much change currently, the one thing that was lovely to see was that the Chapel had not changed after all these years.

We sincerely hope that our pupils will share the same affiliation with the school that Ian has demonstrated. Reading School drives the principle for service to others, 'giving back to our community'. We strive to embed this culture straight from Year 7 through to when our pupils embark on higher education and careers that will influence change in the wider world.

A special thank you to Ian House (OR 1954-1961) for giving a thought-provoking lecture."
We would like to thank the Old Redingensians Association and in particular Francis Terry for enabling this lecture to take place in memory of his late father, Frank Terry.
If you would like to present the Frank Terry Lecture 2021 or share your professional expertise with our students through a short talk, workshop, tutorial or inspire lecture, please complete the form here: Remote Inspire Lectures. Or for further information please contact Miss P Hutchinson or Mrs J Chhokar at events@reading-school.co.uk.
Special thanks to Mrs J Chhokar (Society Manager), Miss P Hutchinson (Society Assistant) for arranging this event.
Thank you to Recapture Creative for recording this event.
#ViaRedingensis #BulidingGoodMen #ReadingSchoolFamily #OldRedingensians #RSKeepInTouch #ReadingSchoolAlumni #InspireLectures #History #poetry