Reading School students working in development with Oracle, Reading Voluntary Action and Connect Reading on the 'Reading Charity Connect' Application 2020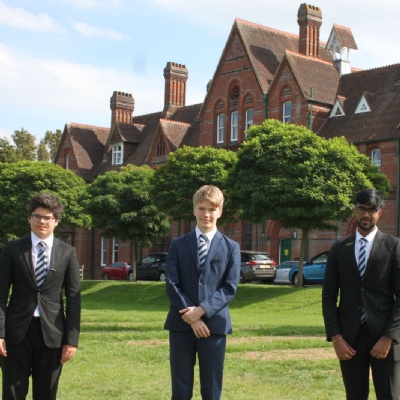 Outstanding work experience contributions from three Year 13 students using their analytical and problem-solving skills on software development at Oracle.
Over the last summer, three Reading School sixth formers, Kiran, Peter and Rushil, worked on a project with Oracle, Reading Voluntary Action and Connect Reading. The Reading Voluntary Action group helps pair up different organisations in Reading to provide the best responses to those most needing help - such as food parcels, prescription collections, or telephone connection - from all the individuals that are willing to support the community. However, as the scale of assistance increases, the difficulty of planning does too. This is increasingly important during the Covid-19 pandemic.
Alongside the developers from Oracle, the students worked as a small team to build an application named 'Reading Charity Connect'.
Rushil, Kiran and Peter said:
"The 'Reading Charity Connect' app aims to improve coordination between local charities, by constructing a system to manage all this work - to track everything and pair up those who are offering help and those who need help.

It is incredibly fulfilling that Reading Charity Connect will soon be going into action in GP surgeries across the town, linking patients to voluntary sector support and activities through a Social Prescription.

The application is built on Oracle's OJET framework, PHP based services, and Oracle's MySQL database. We added and tested features, ironed out bugs and reorganised parts of the system to make it streamlined, stable, and easy to use. For example, we added validation on each page and duplicate checking and removed an issue where selecting a user would go to an incorrect page. In total, we closed 17 major new features, enhancements and bugs and made 66 commits to the codebase.

The project itself is open-source (available at Charity Connect Reading) and is thoroughly documented, such that charities elsewhere can adapt our implementation to fit their requirements and get the Charity Connect system up and running with ease. The application is deliberately light as this allows for smaller charities to host it themselves.

Overall, we feel as though our software development skills, more specifically problem-solving and proficiency with new technologies have improved immensely during our time working on Reading Charity Connect.

We would like to sincerely thank Mr Barraclough for arranging this excellent opportunity and Martin Millmore (Vice President) at Oracle Corporation for overseeing our work experience."
Martin Millmore (Vice President) Oracle Corporation commented:
"Thank you to Rushil, Kiran and Peter, from Reading School for undertaking their work experience with the Oracle during the Summer. They implemented a host of new features, like duplicate checking of users, making sure we have the right validation on each page, adding new fields, and generally made the application much more stable and easier to use. Between them, they have made 66 commits to the code, and closed 17 major new features, enhancements, and bugs. Kiran had more commits to the project than anyone else at all. I have been impressed with their work and would happily have any of them on my team again. I wish them the best of luck as they enter their final year of A levels and thank them for the great work they have done."
Rachel Spencer (Chief Executive) at Reading Voluntary Action said:
"Thank you for all your hard work over the summer. The app will be central to future partnership working for charities in Reading. I am sorry you have not seen it in action yet, but I promise to keep you posted on its use!

We are currently recruiting link workers who will be based in GP surgeries across the town. They will link patients to voluntary sector support and activities through a Social Prescription and the app will be perfect for them. The app service will be in place before the winter and of course, a possible second wave of Covid-19, and the GPs are keen to keep the arrangements in place for the next 2 years at least.

Thank you once again for all your support and work on this project."
Mr A M Robson, (Headmaster) commented:
"Schools must prepare pupils for global opportunities and Rushil, Kiran and Peter have demonstrated solutions focus, together with accuracy and attention to detail whilst working collaboratively in a team. It is encouraging to see our students bringing the core values of Reading School to the forefront by working with local organisations like Oracle, Reading Voluntary Action and Connect Reading to assist in implementing projects that benefit the wider community such as the 'Reading Charity Connect' app.

Practical placements are central to the learning process. Students learn better when they experience science and technology for themselves, broadening horizons beyond the classroom as well as developing independence and confidence. Finding and arranging high- quality placements can be very difficult and we are extremely grateful to individuals and organisations who invest their time in providing these invaluable opportunities to Reading School students."
Thank you to Mr Barraclough (Teacher of Computer Science) for supporting these students and arranging this brilliant opportunity.
Reading School is the South East State Secondary School of the Year 2020 and we invite both local and national organisations to share work experience opportunities, mentoring or other student-led initiatives with Reading School's next generation of innovators. Please email Mr Tom Evans (Assistant Head) at careers@reading-school.co.uk if you wish you to share any forthcoming opportunities.
#ReadingSchoolFamily #ViaRedingensis #TheReadingWay #BuildingGoodMen #WeAreRedingensians #WorkExperience #WorkPlacements