National Mentoring Day 2020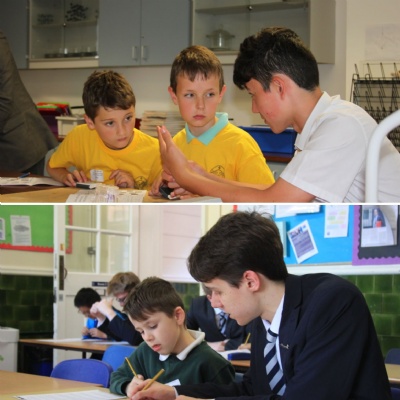 Reading School continually encourages pupils, Old Redingensians, parents and companies to share their experience and knowledge with our current pupils and undergraduate ORs.
Yesterday was National Mentoring Day. Mentoring aims to educate, inspire and connect individuals to effect positive change and raise aspirations.
Reading School pupils develop a strong sense of social responsibility through our Learn, Lead and Serve programme embedded within the Reading Way.
In a normal school week, in a typical academic year, we work with up to 15 local primary schools connecting with around 150 children on a weekly basis to provide reading buddies, additional support in class and Maths and English activities targeted at students identified by classroom teachers. Whilst we hope to get back into our partner primary schools in the months ahead, we now have a mentoring program that can work online and which we hope to develop further in conjunction with local schools. This enables our sixth form students to contribute to their local communities.
As a school we are passionate about supporting the attainment of local students, our Flagship 'Futures Stories' Social Mobility Programme for Pupil Premium and Looked After or Previously Looked After Children, is now in its fifth successful year. The pandemic has focussed our attention to do more, using the creativity of students and staff to find new ways to engage students and schools in the productive learning and mentoring activities on offer.
It was stated in the Social Mobility and Covid-19 report dated April 2020
"There is a considerable risk that the crisis will further open up the early years' attainment gap in both the short and the long term. In the short term, having providers temporarily closed is likely to have the biggest impact on the poorest children, who benefit most from structure provision and are less likely to have the suitable home learning environment needed."
We are extremely proud of our senior students leading on delivering virtual mentoring to local primary schools on a weekly basis directly impacting local primary pupils from disadvantaged backgrounds.
This year we were finalists in the 'School/College of the Year' category as a part of the UK Social Mobility Awards 2020, sponsored by BNP Paribas. We are both honoured and humbled to be recognised for our work in advancing Social Mobility through our Future Stories programme.
We continue to be committed to enhancing social mobility through education and would like to thank students, parents, Old Redingensians and especially the Reading Foundation for their generous support in assisting to advance education for all.
If you or your organisation want to help Reading School elevate our Future Stories programme to enable us to impact future stories of all children, whatever their background, then please contact Tom Evans at tevans@reading-school.co.uk. We need your support to continue to make a difference.
In addition, we want to grow and formalise our student mentoring programme. Standing on the shoulders of its giants, we are fortunate that we have many ORs who commit their time, skills and expertise to current pupils by way of offering work experience, career workshops, Oxbridge and medical mock interviews to name a few. Therefore, we encourage all Old Redingensians to join Reading School Alumni Society to enable us to launch our student mentoring initiative for our current students.
During the time of the pandemic we have been overwhelmed by those that have offered support and we appreciate your commitment to Reading School – continuing to pay it forward.
If you wish to discuss further, please contact Jas Chhokar (Society Manager) at alumni@reading-school.co.uk
#ViaRedingensis #BuildingGoodMen #ReadingSchoolFamily #Mentoring #NationalMentoringDay #Community