Reading School Virtual Debating Society- from Friday 20 November 2020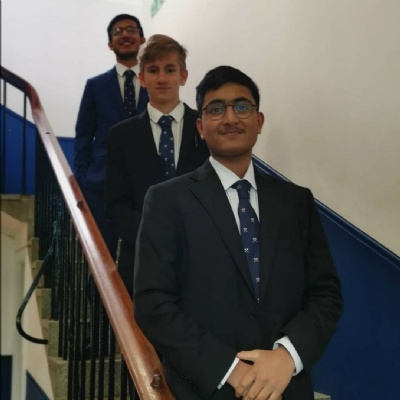 Congratulations to the new debating committee made up of, Arvind A (President of the Debating Society) and Alex N (Vice President of the Debating Society) and Malhar D (Year 12 committee member) with their new ties as they take up their roles.
Reading School's Debating Society is one of the oldest societies running for many years. We endeavour to bring students together to for weekly discussion and debates on current and topical issues. We are continually amazed by the different views that people hold and support and this provides an opportunity to hear them in a constructive arena.
The committee will host a debate every Friday at 2.30pm via Microsoft Teams. Over the forthcoming weeks, the motions include:
20th November 2020: THB that Prison does not facilitate Rehabilitation
27th November 2020: THB that the voting age should be lowered
4th December 2020: THS the removal of controversial monuments (i.e. The Edward Colston statue)
11th December: 2020 THB that the UK is systemically racist
The Debating Society allows the opportunity to enhance and encourage public speaking skills to boost confidence.
Arvind A said:
"The Debating Society at Reading School aims to engage students in current world issues and helps to build confidence and promote respect for different people's views. Will you dare to be different? Will you dare to voice what you believe? Have your say!

I look forward to many of you joining us on our first virtual motion on Friday 20 November on prison rehabilitation.

In addition, thank you to Miss P Hutchinson (Society Office) for co-ordinating the Debating Society sessions."
If you are a Reading School students and would like to join the debating society, please use the teams code: yvm6s18
Please click here for the Debating Society Rules of Debating: Reading School Debating Society Rules 2020-2021.
We welcome Old Redingensians that would be interested in being involved in either a panel debate or one of our forthcoming motions. If you would like to participate please contact Miss P Hutchinson at alumni@reading-school.co.uk.
#ViaRedingensis #ReadingSchoolFamily #BuildingGoodMen #RSDebatingSociety #debating