Year 13 Student winners of the Student Investor Challenge 2020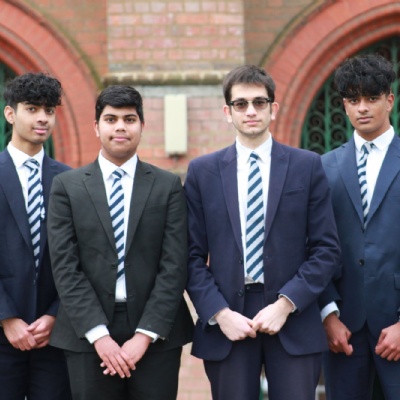 Congratulations to Anirudh G (13BSA), Dev G (13AC), Rahul M (13JP), Sunny K (13VGG) from team QuantumFund, who beat 9,840 UK schools and won the Student Investor Challenge 2020.
The London Institute of Banking & Finance runs the challenge to give students the chance to experience what it is like to invest in stocks and shares. Over 33,000 students in teams of four from schools around the UK took part, despite having little or no prior experience of the stock market or the finance sector. Total trades amounted to £1.9bn!
Having made it through to the Top 500, in the semi-final, the team of Year 13 students had to predict the rise and fall in the value of certain asset classes and successfully made it to the final eight back in March. Their next task involved investing two virtual portfolios of £100,000 over four months (from October 2019 to January 2020) in a trading game that replicated the real market.
During the final, QuantumFund had to deliver a presentation giving investment advice for a personal case study – a couple who wanted help on how to invest their savings. This included advice on how to manage money, savings and investments, to demonstrate how the financial knowledge they'd learned through the competition could be applied to individuals based on their particular financial objectives, circumstances and attitudes to risk. Due to COVID-19 restrictions, the team's presentation was submitted via video and the final took place virtually on Wednesday evening.
The team captain, Dev G (13AC), was instrumental in leading the team to 1st place, demonstrating his excellent leadership skills. Their effort and hard work has won them individual cash prizes and as well as a prize for the school.
Catherine Winter, Managing Director, Financial Capability & Community Outreach at the London Institute of Banking & Finance, said:
"This competition is a powerful way of engaging young people with how the finance sector works and relating it to everyday life. We want to help young people feel able to take control of their finances and not be left feeling that money controls them. It's a vital life skill. This year the teams showed real resilience and agility. They had to produce a video instead of making a presentation, and the final had to be virtual instead of being held in London. It was a different experience, but one that still allowed these young students to shine and really show off their growing confidence around money and investments."
Mrs A Cash (Head of Economics) said:
"Every year over 40 teams of economists from Reading School in years 9, 10 and 12 compete in the Student Investor Challenge which gives them a great opportunity to learn about the stock market. Quantum Fund have been entering the competition since year 9 and it is exciting to see the progress they have made since then in developing their knowledge of financial markets. Lead by team captain Dev G, they have worked incredibly hard over the last year, especially in putting together their final presentation. Well done Quantum Fund!"
Mr A M Robson (Headmaster) says:
"We are very proud of the achievement of QuantamFund in the prestigious Student Investor Challenge. They have shown intelligence, analytical ability, leadership and resilience. Undoubtedly, they are role models to all our budding economists."
To see the teams QuantamFund's video presentation in the final, please click here: Student Investor Challenge 2020 Finals
Well done to the runners-up Stockaholics from Sevenoaks School IB and Titanic Investments from Framlingham College.
About the Student Investor Challenge:
This competition brings the movement of stocks and share to life through a trading game, helping thousands of young people to grasp how economies work and the basics of investment.
9840 teams of four from schools across the UK (totalling 33,006 students) invested two virtual £100,000 portfolios in the stock market
£1.9bn was traded in total across 207,685 trades
The top 500 teams reached the semi-final
500 teams competed in the semi-final to get to the final 8
7 teams competed in the virtual final
The winning teams won individual cash prizes and a prize for their school
#ReadingSchoolFamily #ViaRedingensis #BuildingGoodMen #SIFinal2020 @StudyLIBF @StudentsInvest #economics