Debating Society Special with OR Julian Sutcliffe (2007-2014)- Should controversial monuments be removed?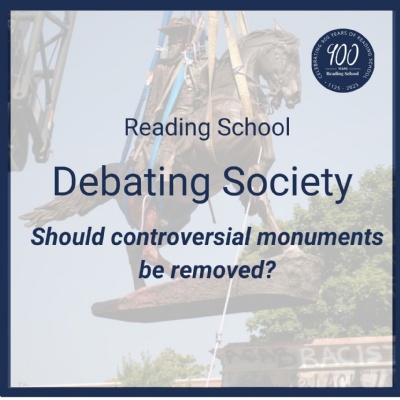 Reading School was delighted to welcome Julian Sutcliffe (OR 2007-2014) to last Friday's motion.
Julian is a second-year Civil Service Fast Streamer in the Foreign Office. He left Reading School to read History at the University of Cambridge. He also appeared on the BBC's University Challenge, as part of a team from Peterhouse College, Cambridge, that won the 45th series of the show in 2017.
Julian joined Paul S (13BSA) as part of the proposition during the debate. Kieran C (13BSA) & Charles C (13ANC) made up the opposition as both sides argued their views on the motion.
We saw a full house of keen audience participation delivered via Microsoft Teams, where students were able to ask questions to either side to challenge their arguments.
Arvind A (President of the Debating Society, Year 12) said:
"On the 4th of December, support for the removal of monuments with a controversial history was debated. This motion is something that matters to us all, as we are all connected by history regardless of our race, class, colour, or creed.

Julian demonstrated his tact and skill for debating his side of the argument. It was a pleasure to have him involved. This was the first time an Old Redingensian participated in a live debate and we are hoping this is will continue in the future as the perspectives of current students and external guests are incredibly valuable.

I would like to thank Julian again for his participation, in what I thought was an extremely thought-provoking debate."
Mr A M Robson (Headmaster) said:
"Thank you to Julian for participating in our Debating Society. I am extremely grateful to our Old Redingensians community for offering this opportunity for our students to see experienced external speakers battle it out! The Debating Society, led by Arvind A (Year 12) will tackle many controversial topics and having a platform to share gives our students the opportunity to ask questions, gaining a better understanding of new subjects.

Thank you to Piatrice Hutchinson (Society Assistant) for assisting in arranging and supporting the Debating Society."
All students are encouraged to participate in Debating Society gaining broad, multi-faceted knowledge, increasing confidence, poise and self-esteem and improving critical thinking skills.
Students can also follow on Instagram at RS Debating Society.
Were you an avid debater during your time at Reading School? Would you like to be a special guest in one of our weekly debates?
If you are interested, please contact Piatrice or Jas at alumni@reading-school.co.uk.
#ViaRedingensis #BuildingGoodMen #ReadingSchoolFamily #RSKeepInTouch #OldRedingensian #RSEnrichment #RSDebating