Reading School Students deliver Joy to Old Redingensians Community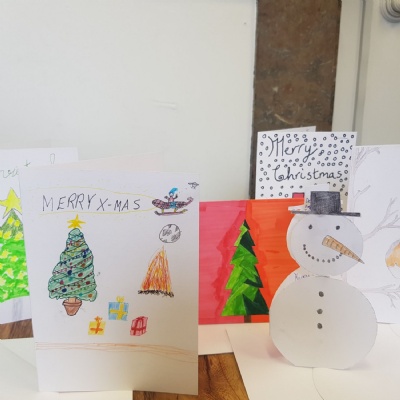 Who doesn't love a Christmas card? They show that someone's thinking of you and that you're not alone. But every year, over 500,000 over 60s spend the festive season alone, according to Age UK.
This month, in the run-up to the festive period, Reading Students in Year 7 and 8 designed and wrote more than 300 hand-made personal Christmas Cards to send to Old Redingensians over the age of 65, to let them know we are thinking of them.
2020 has seen many months of isolation and this has been challenging for younger generations for whom community and social identity-forming has been disrupted, but even more so for those older generations, who faced enforced shielding and, often, profound challenges staying in touch with their families.
With so many people feeling lonely, separated or isolated and this year our students felt it was particularly important to spread Christmas cheer and think of others.
Mr A M Robson said:
"It has undeniably been a tough year for many and as part of our 'Words for Wellbeing' initiative, the recent student postcards sent to local care homes were very well received by the residents. As Christmas is story is fundamentally about God's generosity to us, finding ways to encourage our students to consider others is an important part of our curriculum at this time of year.

Sending cards to the oldest members of our School family was a great way for our youngest students to engage with older ORs. We are delighted to have heard back quite unexpectedly from so many of our ORs from the UK and around the world who have expressed their gratitude for the thoughtfulness of the boys. The personalised cards and messages from our students has sparked curiosity from those whose Christmases at Reading School was very different indeed. Connecting our community brings joy to us all.

My only regret is that we didn't manage to get cards to every one of the over 65s in our alumni network."
Thanks must also go to Ms Ayres, Mr S. and Mr B. Miller, Mr Teixeira, Mrs Alberici (Receptionist), Ms Hutchinson (Society Assistant) and Ms Lidbetter (Office Manager) for making this important initiative happen.
Some OR's have expressed wishes to write back to those students from home they have received cards. If you have received a card and would like to do this, you are most welcome, though this was never expected. Please address any responses to Mrs Jas Chhokar (Society Manager) at the Reading School address and we will ensure that these are passed on.
#ViaRedingensis #BuildingGoodMen #ReadingSchoolFamily #OldRedingensians #RSKeepInTouch #alumni