New Year's Eve message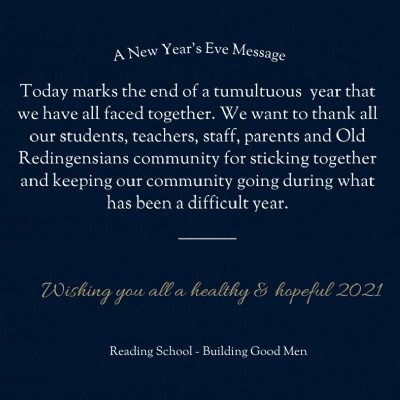 Today is a time for reflection and gratitude for the past, as well as our hopes for the future.
Over the last year the Reading School community has gone beyond all limits to work together and support one another during the pandemic.
A new year is a powerful occasion, a chance to welcome a fresh start and strengthen our enthusiasm for setting goals. This year it is particularly hard to conjure up the right words to express wishes for friends, families and colleagues as we miss those we have so dearly lost and continue to strike the right balance for our own mental health and wellbeing as we seek to persevere.
In an extraordinary year, we are grateful for how so many of the Redingensians community has reached out with warm words of wisdom and support. Therefore, whatever the new year has in store, we know the Redingensians community are better together.
In 2021 we seek to put into practice our values so that we are able to achieve academic excellence and developing people of substance.
In 2021 we seek to nurture the character and attributes of our students so that they are to persevere in the midst of challenges, who are positive and happy.
In 2021 we redouble our commitment to cultivating positive, healthy and respectful relationships, encouraging students to practice gratitude.
In 2021 we seek to support the wellbeing of all members of the Reading School community
In 2021 we seek to develop respect for different perspectives and backgrounds.
May this year bring new happiness, new goals, new achievements and inspiration. Wishing you a year full of hope, health and happiness.
#ReadingSchoolFamily #OldRedingensians #WeAreRedingensians #ReadingWay #BuildingGoodMen #HappyNewYear2021