The 12 Book Challenges of Christmas​​​​​​​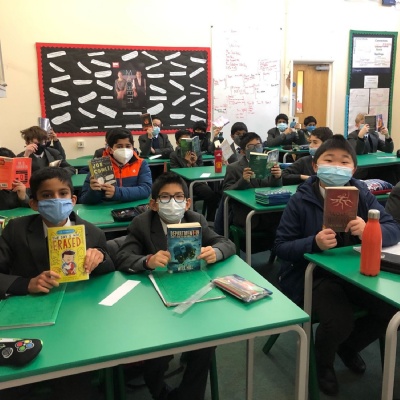 Reading School Students were set 12 mini challenges to inspire them to keep reading over Christmas.
All year 7 and 8 completed one of the challenges during a special library lesson in December, which was to read a book picked by someone else in their class from the LRC Lucky Dip bag. Other challenges included reading a book published the year you were born and running a book quiz for your family. Prizes were award for completing all twelve challenges and for creativity.
The 12 book challenges included:
Read a book you would never normally read
Read a book together with a family member
Listen to an audiobook
Read a book published the year you were born
Pick a book without looking
Read a book in bed
Run a book quiz with your friends and family
Read a book in a day
Write a short story based on a book you have read
Read a book inspired by a historical event
Create an alternative front cover for a book you've read
Read a book about food
The overall winner, who completed all twelve challenges was Nag V (7C).
Click here to see the video Nag created to document each Challenge: LRC Christmas Competition Winner Nag V 7C 2020
Qasim A (7W) and San C (9S) were worthy runners up who also completed all 12 challenges.
The Judges also commented:
"We would like to thank all the pupils who entered the competition for sharing their enthusiasm for reading with us and it was great to see the families getting involved with challenges too. We really enjoyed judging the competition and it was great to see so much creativity. We particularly thought that Nag's video was very enjoyable to watch and the short story inspired by Jeff Kinney's Diary of a Wimpy Kid was fun to read. It was wonderful to see pupils make the most of the opportunity, reading books ranging from Private Peaceful by Michael Morpurgo to We Should All Be Feminists by Chimamanda Adichie and The Zen of Fish: The Story of Sushi, from Samurai to Supermarket by Trevor Corson."
Congratulations to Nag V (7C) on winning the competition and a special thanks to Mrs Kesteven (Librarian) for running this competition.
#ViaRedingensis #BuildingGoodMen #ReadingSchoolFamily #reading #excellence #bookchallenge