Life of a Veterinary Surgeon- Dr Peter Jackman MRCVS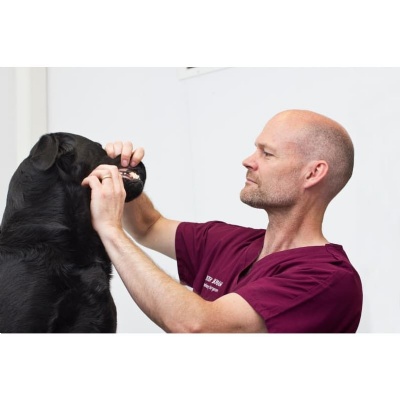 Veterinary Surgeon and Year 12 Parent Dr Peter Jackman spoke to the Reading School Medical Society about his Veterinary career.
After completing his studies at the University of Bristol, Peter spent 32 years working as a 1st opinion veterinary surgeon at a small local animal practice, which he eventually goes on to own and manage.
During the talk, Peter gives a brief overview of life as a vet and emphasises the unpredictable day-to-day challenges. Unlike doctors and/or dentists who often specialise in a particular field, a vet may need to be a general surgeon, a dentist, a radiographer, a behavioural specialist and must also be able to diagnose patients who cannot speak for themselves.
Despite many aspiring medical and dental students, they had many questions to ask Peter during the Q&A session that followed the talk. Peter answered each question in detail which often led to further questions from the students. He spoke candidly about the reasons why he became a vet and offered good advice to students about investigating their potential careers.
Eashan Ci (12 FEH) said:
"It was extremely interesting to hear about the parallels between medicine and veterinary medicine, and how vets have to deal with similar issues to doctors."
Archie T (12VGG) also said:
"It was great to hear about an alternative medical profession and the different challenges it offers. I was impressed by the sheer breadth of knowledge required to treat the variety of patients coming through the door, and the complex considerations between the needs of the animal, owner and practice. Thanks to Mr Jackman for answering so many of our questions!"
The Reading School Medical Society would like to give a special thank you to Mr Peter Jackman for taking sharing his knowledge and expertise. Professional input from outside Reading School is essential for the development of our students' futures and to help them take the big step from student to further education or initial career path. We want them to be as employable as possible. Especially given the current economic climate. And that's where you come in.
If you are an Old Redingensian and would like to join our private LinkedIn medical society, please click here: Reading School Alumni Medical Society
If you would like to share your professional expertise, academic specialism or research background with our students through a short talk, master class, tutorial or inspire lecture, please complete the form here: Remote Inspire Lectures
If you have any further queries, please contact Piatrice or Jas at events@reading-school.co.uk

#ReadingSchoolFamily #BulidingGoodMen #ViaRedingensis #ReadingSchoolMedicalSociety #RSEnrichment #MedSoc #veterinary #careers