Harry Potter Virtual Book Night 2021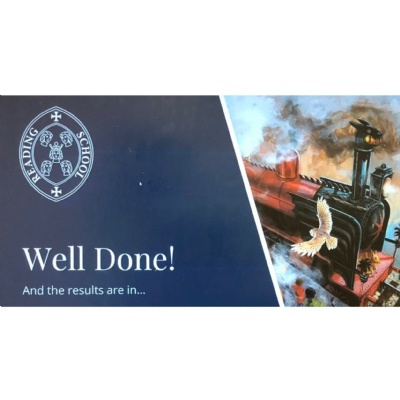 A new LRC record was set this week when a total of 20 Teams made up of 55 pupils took part in our annual Harry Potter Book Night Quiz.
Harry Potter Book Night is a popular annual event inviting fans of all ages to celebrate J.K. Rowling's wonderful series. This year's quiz was conducted via Microsoft Teams due to the pandemic. The new Breakout Room feature on Microsoft Teams was used in order to facilitate a team environment,
This year's quiz was put together by previous winners Sidh G., Sid D. and Samuel J. Pupil Librarians Matthew C. and Rajan D, led by Head Pupil Librarian Matthew G worked hard behind the scenes providing technical support and enabling the smooth running of quiz.

After a tense set of three tie-breaker questions between Team Dhruv and Team Siddharth, Team Dhruv prevailed to become Harry Potter Quiz Winners 2021!
Riyansh (7L) said:
"This quiz was a great way of having fun with friends, and sharing our knowledge about Harry Potter with new friends that I have made in this school."

The magic of Harry Potter is normally celebrated globally in schools, libraries and bookshops during February each year. This year, although the official date has changed to June, we have decided to go ahead as planned. It was wonderful to be able to offer the opportunity for our avid Harry Potter fans to meet-up online and test their book knowledge.

Here are the results:
| | |
| --- | --- |
| Name of Student | Total Points |
| Dhruv G | 39 |
| Siddharth M | 39 |
| Khanishk T | 38 |
| Aarav A | 36 |
| Thomas K | 34 |
| Jamin H | 33 |
| Nived N | 33 |
| Neil C | 33 |
| Rajveer R | 30 |
| William F | 30 |
| Harry L | 28 |
| Thomas A | 27 |
| Ethan P | 27 |
| Nag V | 27 |
| Prayrit A | 26 |
| Aaryan A | 24 |
| Takumi P | 24 |
| Tom C | 21 |
| Nicholas A | 13 |

#ViaRedingensis #ReadingSchoolFamily #RSEnrichment #readingway #quiz #harrypotter