Happy Lunar New Year 2021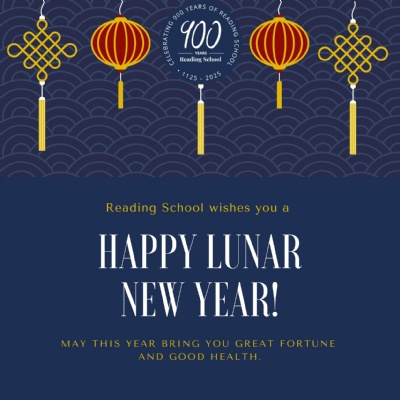 Reading School wishes you a Happy Lunar New Year!
We are focused on celebrating our cultural diversity, including in respect of ethnicity, religion and language. We are committed to a culture which values difference in all its forms and promotes inclusion, integrity and community.
The Lunar New Year, also regionally known as the Chinese New Year or Spring Festival which typically falls between 21st January and 20 February each year depending on the lunar calendar. It is the most important annual event for many east Asia countries from China to Vietnam.
This year is the Year of the Ox, one of the twelve Chinese zodiac signs often associated with hard work, intelligence, humbleness, and reliability.
The Lunar New Year is a celebration lasting anywhere from a week to 15 days with the 15th day celebrated as the Lantern Festival. Whilst this year celebrations taking place around the globe will very different, given the many restrictions still in place, we do hope that you all have a safe and happy time.
We wish our partners at Lunhua Education, Suzhou, and our staff, pupils, parents and Redingensians community celebrating the Lunar Year a Happy Chinese New Year.
#ViaRedingensis #ReadingSchoolFamily #WeAreRedingensians #ReadingWay #lunarnewyear #yearoftheox