​​​​​​​Bestselling Author, Chris Bradford, Opens Book Week 2021 With Samurai, Bodyguards, Soul Hunters and the Ancient Indian Martial Art, Kalari​​​​​​​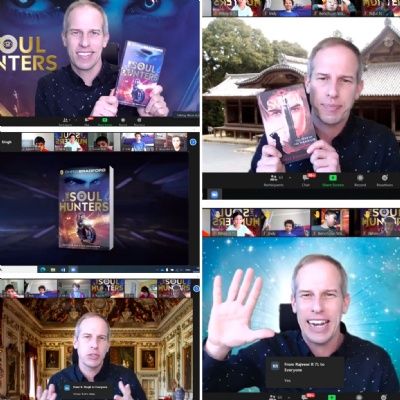 Over 60 pupils logged on to our Chris Bradford Zoom author talk on Friday afternoon, with over 20 Book Club members joining the exclusive Q&A session which followed the main talk.
Chris spoke about his new book, The Soul Hunters which explores themes of reincarnation and the soul. He is known for his high energy, interactive talks which are usually done in-front of an audience, so it was great to experience such a successful virtual talk without losing the engagement and participation of the audience. There were quizzes and even jumping! "Have you ever experienced dreams so vivid it seems like you have lived them? Or had déjà vu so strong you're convinced you must have been there before?"
Chris has visited the school twice before and is due to visit again in 2023. His new book, The Soul Hunters, is the first in a new trilogy. He has also announced three more books for the Bodyguard series and news of a Young Samurai TV series which is currently in production. The rights for the Bodyguard series have just been acquired by a TV company.
Here are some student reviews of his talk:
"I am definitely inspired to read Soul Hunters. I found the experience very fun, interesting, mind-boggling and there were a few laughs too. I would now be inspired to read even more Chris Bradford books. It was a very incredible experience."
Arjun 7W
"I learnt lots from Chris Bradford's amazing talk, from martial arts to new book that he was going to publish. I truly enjoyed this meeting!"
Nived 7S
"I really enjoyed the talk, and I am definitely going to read his new book. Also, I learnt that there is going to be a TV series of Young Samurai and Bodyguard, both of which I will be watching when they come out."
James 8S
"I enjoyed the event a lot! Looking at his 'Soul Hunters' books makes me want to read it right away! I'm definitely going to read it and the 'Soul Prophecy' which he is going to publish soon."
Srujan 8L
"I have certainly been persuaded to continue reading The Soul Hunter, but I have also been given something to think about - that there may actually be the concept of reincarnation, which, coincidentally, is what my religion states as well. It was very intriguing to hear about deja vu."
Akshith 8E
"I thought it was amazing, I was completely engaged in the talk and enjoyed it very much. I found it fun to do the short quizzes on extracts from his books."
James 9C
"I really enjoyed learning about Chris Bradford's work "behind the scenes" when he researched reincarnation for his Soul Hunters book. I have read his Bodyguard and Young Samurai series, but this talk, with all the mystery of one soul being born into many bodies over time, made me want to read this book."
Bharat 9W
"I thought it was amazing, I loved how Chris Bradford has so thoroughly researched his topics. I loved his videos about reincarnation and martial arts. Really want to read Soul Hunters now!"
Paarth 9W
Earlier on in the month, students were encouraged to write a short story of no more than 500 words based on Chris' story starter titled, The Climb: The winners were announced live during the main talk:
James T (8S) won 1st Place : Click here to read his story
Ankush S (9L) won 2nd Place: Click here to read his story
James F (10S) won 3rd Place: Click here to read his story
They will each receive a signed copy of one of Chris' books.
Chris Bradford commented:
"I am so glad the event was a hit. Thanks as ever for your support and please do spread the word among your librarian community about my virtual offerings. I can't wait to return."
We would like to thank Ms S Eggers (English Teacher) and Mr S Miller (English Teacher) for helping to judge the short story competition.
We would also like to thank Mrs L Kesteven (Librarian) and Mrs A Jackson (Librarian) for coordinating this talk and the Old Redingensians Association for their continued support of Book Week.
#ReadingSchoolFamily #WeAreRedingensians #ReadingWay #BookWeek2021 #ChrisBradford #Reading #Books