Gaurav K (9L) becomes English Chess Federation (ECF) Club Master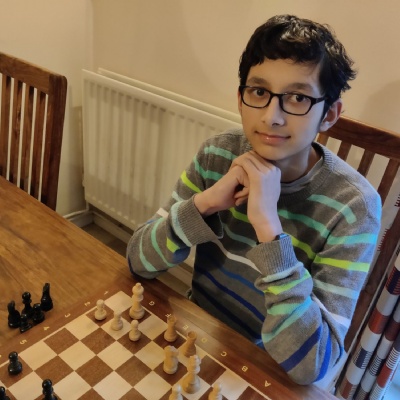 Congratulations to Gaurav K (9L) who has just been awarded the title of English Chess Federation (ECF) Club Master. He is currently the 12th in the UK!
The Netflix miniseries, The Queen's Gambit, may have ignited worldwide interest in Chess, but Gaurav has always been an avid fan. He explains how he developed this keen interest:
"When I began to play chess at the age of 5, I didn't enjoy it nor was I very good. However, as time progressed, my interest began to surge along with a visible improvement. With motivation and encouragement from friends and family, I started entering and qualifying for major tournaments, notably, the Delancey UK Schools Terafinal, London Majors, and the British Chess Championships. With continued determination, I earned my first title of Club Master last month.


If I were to give some advice for those looking to improve, it would be this: learning the main conventions of chess openings and endgames can be useful, but by simply playing against others you will improve much faster. Also being patient, thinking ahead, considering all the possibilities, knowing your plan of action, and taking risks are all key qualities a chess player should aspire to have. Finally, of course, playing chess can earn you all sorts of prizes and titles, but most players, including myself, will tell you that their main purpose is to try new possibilities and have fun."

Do you have an interest in Chess or want to improve your game? Here are Gaurav's five top tips for aspiring players:
• Learn the rules of the game
• Play online and challenge him to a game!
• Play in tournaments run by the English Chess Federation
• Join the Reading School Chess Teams Club
• Watch the Queen's Gambit on Netflix.

Chess can be played anytime, but there are friendly inter school tournaments around once a month as well as intra school tournaments every other week. All students are welcome to join.

There is also a Microsoft Teams page with all the announcements and some great chess discussions: Join the Reading School Microsoft Teams Channel.

Mr B Miller, Head of Theology & Philosophy and Form Tutor said:
"What a fantastic achievement by Gaurav! I understand that this places Gaurav in the top 12 chess player in his age group in the UK! Clearly, the club master title represents many hours of hard work and diligence from Gaurav."

Mr A M Robson, Headmaster added:
"Yet another successful chess player emerges from Reading School! This is an outstanding achievement from such a young and dedicated player. Chess is known to result in increased cognitive abilities and strategic thinking, but it also improves attention and teaches patience, all of which are essential skills we try to develop within our students to make them well-rounded individuals. Old Redingensians who have continued to prosper in Chess include Cambridge student, Matthew Wadsworth (OR 2011-2018). Congratulations to Gaurav and his family on this success."

We strongly encourage students to lead and participate in our Chess Society. If you would like further details on how to join please contact Mr T Evans to join via Teams.

#WeAreRedingensians #ReadingSchoolFamily #ReadingWay #Excellence #Chess #RSEnrichment