An Insight into Clinical Medicine with OR Divyansh Dixit (2008-2015)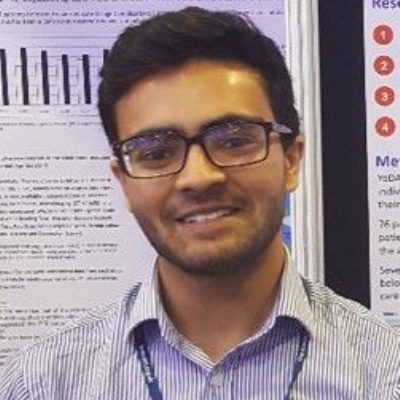 The Biology Department and Reading School Medical Society were delighted to welcome back OR Divyansh Dixit (2008-2015) for a virtual Teams talk on Friday 26th February.
Divyansh completed his A levels (Biology, Chemistry, Geography, Maths & Further Maths) in 2015 and started his Medicine degree at the University of Southampton.
Years 11, 12 & 13 students had the opportunity to hear his first-hand insight on the application process, attending the University of Southampton and a comprehensive overview of a medical degree. Students in attendance were fascinated to learn about his practical work experience, particularly how early Divyansh met his first patient. They enjoyed taking part in the clinical scenarios and hearing about his published research on the impact of early-onset dementia on carers.
Eashan C (12FEH) commented:
"The talk by Divyansh was fascinating as it gave an overview of clinical medicine and the sort of topics covered during a medicine course. His introduction to clinical topics and pseudo-seizures was especially interesting. I hope he can give another talk, as this one was extremely interesting."
Ayush S (13JM) said:
"Divyansh's comprehensive talk covered various aspects of the medicine application process but also diving into the specifics of what to expect at medical school, giving us some valuable advice along the way. He talked through numerous fascinating experiences, from the birth of a child to modern reconstructive surgery, all of which were very interesting. He ended the talk with two clinical scenarios, putting us into the shoes of a doctor and asking us what we would do in those situations. A great talk and one which was much appreciated by all of the students at Reading School."
This was the first-time Year 11 students had been invited to a Medical Society lecture. Year 11 student Meet N (11W) commented:
"Divyansh's talk provided us all with great insight into medical school and clinical medicine. While all medical talks seem interesting to biology and medicine enthusiasts like me and the other attendees, Divyansh's talk stood out. He provided detailed information on the structure of a medicine course, whilst ensuring we were engaged by giving us clinical problems to solve. It highlighted the difficulty of giving a reliable diagnosis. I have attended webinars outside of school, but this was one of the most interesting medical talks I have witnessed - thank you so much, Divyansh!"
Ms J Pickering (Biology Teacher) said:
"We would like to congratulate Divyansh on passing his medical degree and wish him well for his first post as Dr Dixit!"
Professional input from outside Reading School is essential for the development of our students' futures and to help them take the big step from student to further education or initial career path. We want them to be as employable as possible. Especially given the current economic climate. And that's where you come in.
If you are an Old Redingensian and would like to join our private LinkedIn medical society, please click here: Reading School Alumni Medical Society
If you would like to share your professional expertise, academic specialism or research background with our students through a short talk, master class, tutorial or inspire lecture, please complete the form here: Remote Inspire Lectures
If you have any further queries, please contact Piatrice or Jas at events@reading-school.co.uk
#ReadingSchoolFamily #BulidingGoodMen #ViaRedingensis #ReadingSchoolMedicalSociety #RSEnrichment #MedSoc #medicine #careers