New Pupil Librarian Leadership Team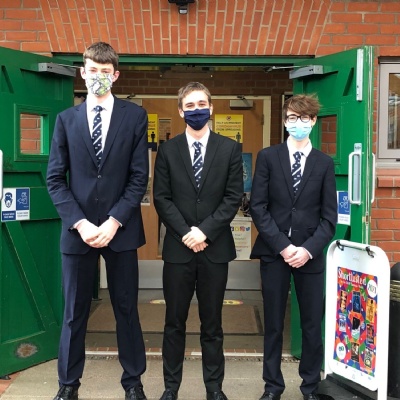 We are delighted to announce that the next Head Pupil Librarian is Matthew C (12BSA). He will be supported by Archie T (12VGG) and Matthew G (12VGG).
The LRC is supported by a fantastic team of about 30 pupils who volunteer to help with the running of the LRC and with activities for the wider school community.
They are integral to the circulation of stock, LRC publicity, competitions, challenges and events.
Matthew C (12BSA) said:
"It's a great honour to be chosen as Head Pupil Librarian this year. I'm looking forward to the many activities we've got planned and can't wait to get started! It's going to be a brilliant year, so watch this space..."
Mrs L Kesteven (Librarian) added:
"I am excited to see where our new Pupil Librarian leadership team will take us over the next year. We are extremely lucky to have such dedicated boys and we are very proud of all of our Pupil Librarians".
We would like to thank Matthew G for leading the Team over the past two years. In particular, he designed our Pupil Librarian tie and has set up professional branding for LRC publicity as well as supporting all LRC related events and activities including quizzes and pupil surveys.
#WeAreRedingensians #ViaRedingensis #ReadingSchoolFamily #Librarians #LRC #leadership