Voices of Old Redingensians: Growing up in Wartime- An Interview with Alan Johnson (OR 1940-1949)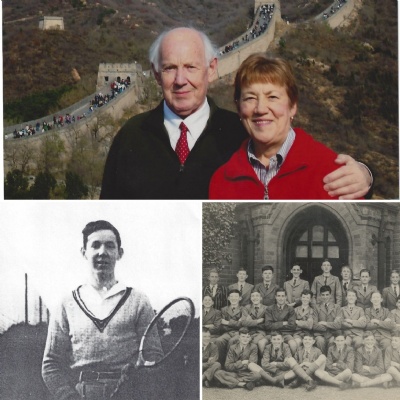 School Captain, Daniel N and Vice-Captain, Charles C had the privilege of interviewing, possibly one of our most senior and inspiring Old Redingensians, Alan Johnson (OR 1940-1949) and his lovely wife Barbara.
Alan shares his memories of his remarkable time at Reading School during World War II in a first-ever 'Interview with an Old Redingensian' via Zoom. Alan answered questions from Dan and Charles as he shared his first-hand experiences of school life during World War II. It was clear that this interview prompted moments of nostalgia and fond memories of his childhood years at Reading School.
Life at school
OR Alan Johnson was born in 1930 and started Reading School in 1940; just a year after the outbreak of World War II. Originally from London, Alan relocated to Reading with his mother and subsequent family due to the Blitz. At age 9, he began Reading School, where he would spend the next 9 years of his life.
Following the school closures across the UK and the implementation of remote learning, School Captain, Daniel N (13ANC) and Vice-Captain, Charles C (13ANC) discussed the parallels between school during WWII and experiences of lockdown and school closures amid the global COVID-19 pandemic. Alan shares his experience as a student during the war:
"It was a difficult life during the War. Many people were living at home; we spent many nights in bomb shelters…The school field was somewhat impaired by the building of air raid shelters near the cricket pavilion. Groundskeepers were sent off to fight the war and, as a result, the dandelion population on the school field increased. We were all set to work on our knees digging out dandelions. When the air raid siren sounded, we all proceeded, at the double, into the air raid shelters. Sergeant-Major Rawlins of the "Corps" was to be seen on the school field with a machine gun waiting for any German plane which dared to attack the school."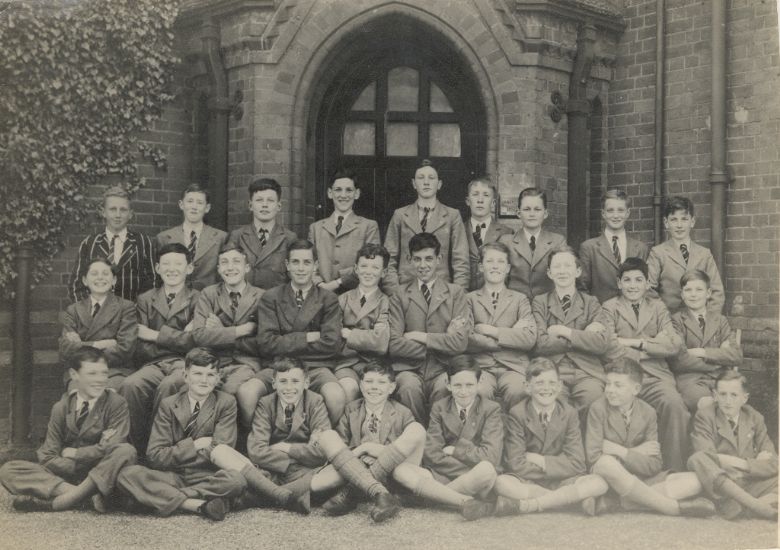 One particularly special memory that Alan recalled was learning how to make fireworks and celebrating VE day with a bonfire on the field.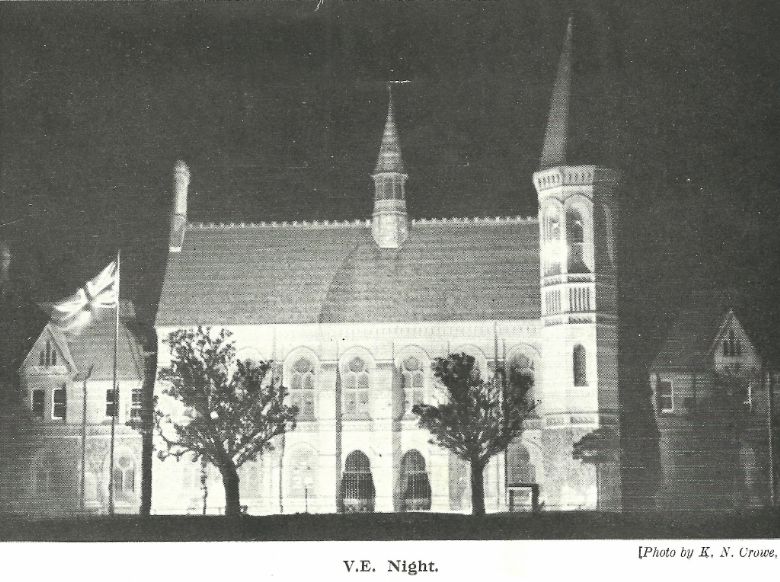 According to Alan, Reading School had and still does have a fantastic reputation for its academics. However, of all the many things he remembers, one of the most significant was the enthusiasm and dedication of its staff. Alan recalls some of his fondest memories were the time spent with friends and teachers outside the classroom. His love of music drove him to take private lessons with Fred Griffin, the Music Master at the time. Alan recalls, "Fred Griffin taught me how to play the Piano and the Organ, Mr Harding, taught me how to play Bridge, Mr Liddington, taught me about rudimentary radios and I would develop photos with Mr Deco."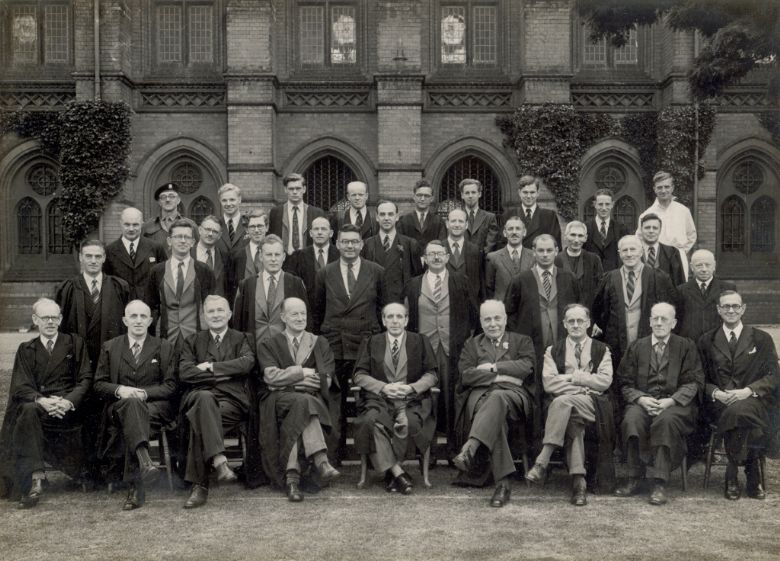 Reading School also gave him lasting friendships. Since leaving Reading School 72 years ago, he remains in touch with a few Old Redingensians, including Ken Brown (OR 1955-1963) and Chris Widdows (OR 1955-1962). Alan shares the values he learnt at Reading School with current and future students, "Always maintain Integrity. It's something you learn at Reading School; it's a part of the culture."
Life after school
He left in 1949 and eventually earned a Ph.D. from Imperial College, London, where he became a Professor. He lectured at the university for some years, before being promoted to Reader. Eventually, he and his family relocated to the USA in 1962. Alan moved away from Physics into Material Sciences and become a Professor at three other universities. Later, he developed a consultancy practice and served as an expert witness until his retirement at 89. He now lives in Louisville, Kentucky, with his wife Barbara and his 8 children.
Both Mr and Mrs Johnson were thrilled to be able to share this interview with the Redingensians community. Please click the link to view: An Interview with OR Alan Johnson (1940-1949).
Mr AM Robson (Headmaster), said:
"As well as being one of the oldest Old Redingensians, Alan is a special part of the history of Reading School, and it was a pleasure to be able to talk with him about his experience as a young boy. Old Redingensians are always invited to share their experiences, knowledge and advice. Your stories have the power to inspire. The strong connection with our OR community remains at the heart of the School."
Daniel N (School Captain) commented:
"It was an absolute pleasure to talk with Mr Johnson and get a glimpse of Reading School's immense history. I enjoyed drawing parallels with my own experiences at Reading School, especially our shared interest in physics. Mr Johnson emphasised the long-lasting impact that friends and peers had on his life, and the importance of the many role models he met at Reading, conveying the great community spirit and integrity of the students in his time, which now aligns brilliantly with our school's key pillars."

Charles C (Vice Captain) said:
"It was a great pleasure to have the opportunity to talk with one of the oldest Redingensians in the world. Mr Johnson provided very interesting insight into life at Reading School during the war and surprised me with funny anecdotes of eccentric teachers and interesting stories of German fighter planes and tunnels under the school field! Furthermore, his personal life experience was fascinating to hear and learn from and I will certainly remember his one chosen piece of advice to Reading School boys, to maintain integrity. I'd like to thank Mr and Mrs Johnson for their time and wish them all the best."

We were impressed by Daniel and Charles' smart presentation, professionalism and courteous manner in which they conducted the interview.

Thank you to Jas Chhokar (Society Manager) and Piatrice Hutchinson (Society Assistant) for arranging this opportunity.

A special thank you to Chris Widdows (OR 1955-1962) and Ken Brown (OR 1955-1963) for assisting in providing some of the archive material for the video.
We would like to launch 'Voices of Old Redingensians' as a part of a community engagement programme which connects our current pupils with our Old Boys who have words of wisdom and stories to share.

If you are interested in being interviewed by our current senior pupils about your time at Reading School, sharing your career path and experience beyond Reading School, please get in contact with Jas Chhokar (Society Manager) at alumni@reading-school.co.uk. Thank you to those who have expressed interest in participating. We will revert to you shortly.
#WeAreRedingensians #ReadingSchoolFamily #ReadingWay #OldRedingensians #RSKeepInTouch