Transition to University: Alumni Panel Discussion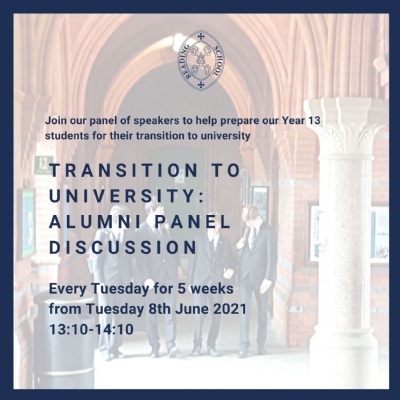 Due to the challenging period over the past 14 months, the Sixth Form Leadership Team (Mr A Lloyd, Mr D Whitehorn, Miss A Stratford & Mrs H Majorossy) would like to offer students additional support in the transition from Sixth Form to university and would appreciate the help of the Old Redingensian community.
We are looking for 20-25 alumni who have left in the last four or five years that can commit to participating in one of the following discussions:
Tuesday 8th June 2021- Five things I wish I'd known before Freshers' Week
Tuesday 15th June 2021- Let's talk about mental health and wellbeing at university
Tuesday 22nd June 2021- Applying to and experiencing a Year in Industry or Study Abroad
Tuesday 29th June 2021- Tips on studying and managing workload
Tuesday 6th July 2021- Survival kit to tackling Clearing
Alternatively, if the times and dates above do not work for you but you would very much like to participate, please let us know the days you are available and we will try and do our best to accommodate.
There isn't anything to prepare- just honest and constructive advice on life after leaving school. Think of it as "advice to your former self" and a chance for you to share what you would have like to have known when you were in Year 13!
So, if you want to give our current students the benefit of your expertise and are interested in joining any one of the panel discussions listed above, please click here: Become an alumni panelist
#WeAreRedingensians #ReadingSchoolFamily #OldRedingensians #RSKeepInTouch #RSGiveBack