The Pain-free Mindset Project- RS MedSoc Inspire Lecture with Dr Deepak Ravindran ​​​​​​​​​​​​​​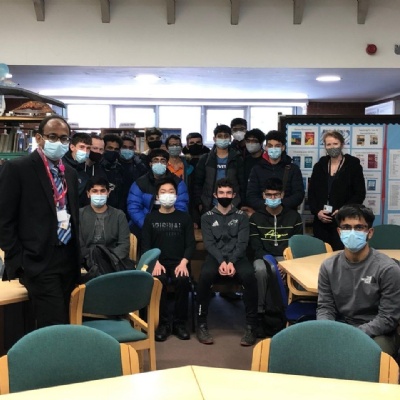 Dr Ravindran has over 20 years of experience working for the NHS and privately on pain and pain management. He has recently written published a book on pain medication called The Pain Free Mindset - published by Ebury, an imprint of Penguin. The book is targeted at the public and aims to provide a more holistic view of the sensation, perception and emotion of pain and how to manage it effectively. He firmly believes that it is vital to provide this kind of understanding earlier to the public when their beliefs about their health and body are still forming.
During his visit, Dr Ravindran shared his reasons for writing his book, in which he explains his proposed research project and asks the help of the students to suggest ways the book's main ideas could be more engaging and impactful to young people.
Here are some Year 12 comments on Dr Ravindran's session:
Adam M (12) said:
"The session was really interesting. Dr Ravindran discussed the topic of pain, and how it has been falsely depicted through outlets like children's films that perpetuate an unrealistic and distorted notion of pain. I learnt how widespread chronic pain is and that it is not the same as nociception. Dr Ravindran argues that we need a new understanding of pain, which he described in his book, "The Pain-Free Mindset". This talks about various steps of taking control and overcoming chronic pain. I would recommend this book as it is certainly a fascinating read!"
Umar A (12) said:
"I found it shocking that 80% of GP consultations in the UK are for chronic pain, yet medical students receive less than 10 hours of teaching on the topic. Dr Ravindran is aware of the disparity between what adolescents grow up understanding pain to be, and the reality. He showcased his vision to improve the public's perception of pain. The difference between nociception and chronic pain, The Nocebo Effect, and the comparison of sham surgeries to invasive interventions are just a few of the concepts that are explored in his book, 'The Pain Free Mindset.' My MedSoc peers and I are excited to help Dr Ravindran spread his message."
Miss J Pickering (Biology Teacher & Head of the Medical Society) also commented:
"Many of our students had not yet read the book, yet came up with interesting communication strategies when put on the spot. I don't know why I am still surprised by how resourceful they are. We are all looking forward to welcoming Dr Ravindran back for the next stage of the project and I would also like to thank him for involving us in something that has the potential to have a significant impact".
A special thank you to Dr Deepak Ravindran for giving up his precious time to speak with our students and Miss J Pickering (Biology Teacher) for arranging this lecture.
Many of our alumni choose to pursue careers in medicine and scientific research. If you would like to share your professional expertise, academic specialism or research background with our students through a short talk, master class, tutorial or inspire lecture, please complete the form here: Remote Inspire Lectures.
If you have any further queries please contact Piatrice or Jas at events@reading-school.co.uk
#OldRedingensians #ViaRedingensis #BuildingGoodMen #medicine #careers #ReadingSchoolFamily #RSKeepInTouch #RSMedSoc