Year 7 Reading Way Summer Camp 2021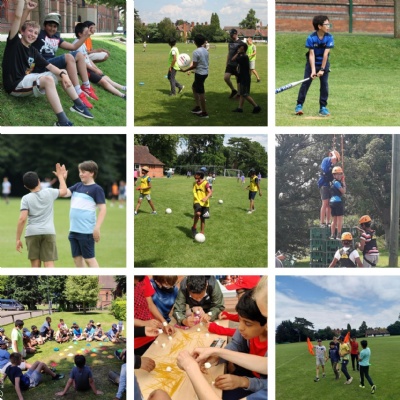 As part of our Reading Way programme, a group of Year 7 students enjoyed a range of fun and stimulating activities in partnership with Reading Football Club & Berkshire County Cricket Club.
We know that the pandemic has disrupted how children can be active and to encourage our students to remain active over the holidays our week-long summer camp, took place between 15th July- 21st July. We welcomed 75 students who participated in engaging activities and team-building opportunities on and off-site to build confidence, leadership and self-awareness skills.
Activities included table tennis, scavenger hunt, IT-based activities as well as students enjoying the sunny afternoons outside where they participated in sporting activities including rounders and frisbee as well as cricket and football coached by our partners, Berkshire County Cricket Club and Reading Football Club.
Offsite activities included visiting the Oakwood Adventure Centre introducing climbing techniques and moves. The benefits of remaining active socially and for health are crucial to wellbeing and we strongly encourage this.
Thank you to the Mr T Evans (Assistant Head, Head of KS4 and Teacher of PE) for delivering and coordinating this program the first of its kind, Mr M Cooper (Head of MFL) for co-ordinating and leading activities supported by Mr E Kenwrick (Maths Teacher), Mr P Holloway (Physics Teacher), Mr A Robertson (PE Teacher), Mr S Ling-Winston (Head of Computer Science), Mrs J Amole (Data and Assessment Administrator), Mrs M Alberici (Receptionist), Mr C Betteridge (Teacher of Mathematics), Miss A Head (MFL Teacher) for putting all their time and effort into providing a wonderful start to the Summer.
Thank you to the work that was supported in the background by Mrs S Phillips (Receptionist/Administrator) and Miss P Hutchinson (Society Assistant).
We hope our students will remember this experience with fondness.
Special mention to the coaches at Berkshire County Cricket Club, Reading Football Club and Oakwood Youth Challenge who worked hard to make this a rewarding experience for the students.
These activities are not possible without partnerships with local companies and sponsorship from our key supporters.
If you would like to support future activities at Reading School please do not hesitate to contact Mr Evans or Mrs J Chhokar at Development@reading-school.co.uk.
#ReadingSchoolFamily #WeAreRedingensians #ReadingWaySummerCamp2021 #SummerCamps #Schools #Boarding #Football #Cricket #Climbing #Frisbee #Softball #Community #SocialMobility @BerksCricket @BerksCricketFdn @oakwoodoutdoorcentre