Good luck - A Level Results 2021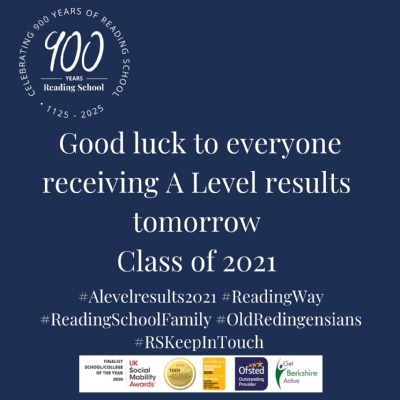 Good luck to everyone collecting A Level results tomorrow, Tuesday 10th August.
Results can be collected from the Reading School terrace from 8.30am to 9.30am. In case of inclement weather, results can be collected from the Refectory. There will also be advice and support for students who require assistance in the LRC.
Further advice is available at https://www.ucas.com/.
Please note that photographs/videography will be taken and there may be some press coverage.
If you have not already done so, please sign up to the Reading School Alumni Society a place for the Old Redingensians community to keep-up-to date with the latest news and events of our School and where you can share your journey as well as connect with a global network of ORs. Reading School produces some of the most talented ORs across various industries and we continue to follow your achievements with great interest and pride.
Join Reading School Linkedin.
Join the Facebook group, for the Class of 2020 only Old Redingensians - Class of 2021.
#Alevelresults2021 #ReadingSchoolFamily #OldRedingensians #RSKeepInTouch #ClassOf2021