National Poetry Day 2021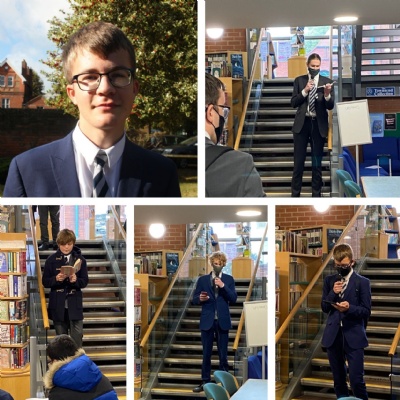 Students and staff celebrated National Poetry Day 2021 in the LRC with the popular "Poetry on the Stairs" event on Thursday 7th October.
Pupils were invited to the LRC during senior break to perform their favourite poems in front of their peers. This year, Pupil Librarian Sid M (10L) organised the event with the support of the Pupil Librarian Team. He was keen to encourage pupils to deliver performances with passion and emotion. Prizes were awarded to the best performers.
Worthy winner, Jacob M (13MJK), transported us back in time and left us wanting more with a wonderful recital of Robert Bruce's Address to his Army at Bannockburn. Outgoing Poet Laureate George R (13AC) and Pupil Librarian, Surendra (13SPA) curated a special collection of poetry for a display in the LRC for those who preferred to read rather than perform. To conclude, Daniel T (12MK) was announced as the new Poet Laureate and performed as well the outgoing Laureate George R.
Congratulations to Daniel T (12MK) on becoming the new Poet Laureate and well done to our performance poetry winners and all those who participated with bravery and gusto.
This was a wonderful LRC event, with pupils supporting each other and enjoying the beauty of spoken poetry. It will surely be a much-loved community event for years to come.
#ReadingSchoolFamily #RSEnrichment #ViaRedingensis #RSEnglish #Poetry #NationalPoetryDay