Daniel T (12MK) appointed as Poet Laureate 2021-2022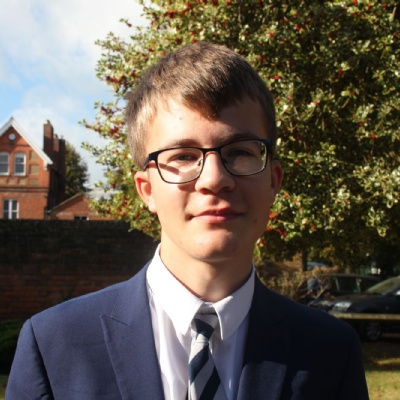 Congratulations to Daniel T (12MK) who has been appointed as Poet Laureate this year.
All pupils were invited to apply for the position of Reading School's Poet Laureate by submitting poems based on the theme of 'Belonging'. We received fantastic applications from right across the school community from Year 7 to Year 13. The talent on display this year made selecting our new Poet Laureate a considerable challenge for Mr Robson, who was impressed by the range of poetic forms used and insightful reflections on the theme.
Dan takes over the position from our current Poet Laureate George (13AC) who shared his poems with the wider school community in what was an especially difficult year. We want to thank George for bringing such enthusiasm and talent to the role.
We hope you enjoy Dan's inaugural poem 'A Murmuration of Pigeons':
There in the glare of a cloudless clear sky
A murmuration of pigeons went circling by.
The flap of their wings was like beats on a drum
Converging and merging to one steady thrum.
And gyrating above me with effortless ease
They swooped with their wingtips outstretched on the breeze
Each pigeon a pearl in the diamond-blue air
Parading in beauty, adroitness and flair
And swirling and whirling like dust in a storm
Not once did they crash with the rest of the swarm
Through pivots and spirals and swift undulations
They soared side-by-side in stunning formations.
And nobody knows how they flock without rules
With their whispering wings an assortment of jewels.
Though their senses are sharp and their instincts are strong,
The birds come together because they belong.
We would like to that thank all those that submitted some excellent poetry, and to the judging panel for their support.
#ReadingSchoolFamily #RSEnrichment #ViaRedingensis #BuildingGoodMen #PoetLaureate #RSEnglish #Poetry #English #PoetryDay