50th Anniversary Reunion & School Tour- 1971 Intake- Saturday 4th December 2021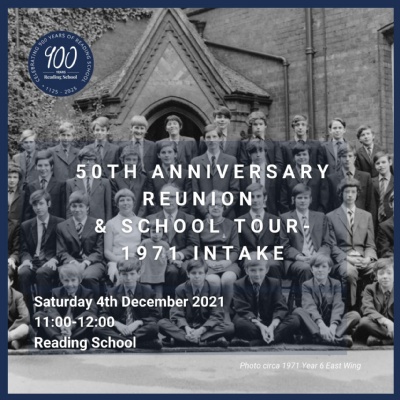 Reading School and Alumni Ambassador, James Mossman (OR 1971-1978) have arranged a 50th Anniversary School Tour for all Old Redingensians that started in 1971 (or left in 1978).
Led by Headmaster, Mr A Robson and our School Prefects, the tour will take place on Saturday 4th December 2021 from 11am-12am. Thereafter, a reunion lunch is arranged at the Rams Redingensians.
Agenda of the day:
11:00 Meet and Greet
11:10 Speeches from the Headmaster
11:20 Tour Begins- we will visit Big School, the Kirkwood Room (archives), the Quad and Refectory, the New Philip Mitchell Science Building, The Lecture Theatre, the Gym, the John Kendrick Building & the Chapel.
12:00 Tour ends
Reunion lunch at Rams, arranged by James Mossman (OR 1971-1978)
If you would like to visit any additional areas of the school, please contact Jas or Piatrice at alumni@reading-school.co.uk.
If you would like to attend the reunion lunch at Rams stadium following the tour, please email alumni@reading-school.co.uk. Your contact details will then be passed on to your contemporary, James Mossman.
If you would like to attend, click here to RSVP: 50th Anniversary School Tour
Parking will be available on-site. Entrance via the main School gate - Erleigh Road
To ensure the safety of our guests, we request that all attendees must undertake a lateral flow test 48 hours before the event and only attend if the result is negative. This includes those that have already been single or double vaccinated.
Face coverings are recommended as they can reduce the spread of infection. Please use your judgement in deciding where you should wear one.
Please note that photographs and footage may be taken and used for social media and in our school magazine and communications. If you (or your guests) do not wish to be photographed, please contact us at events@reading-school.co.uk.
We look forward to welcoming you back to school!
#WeAreRedingensians #OldRedingensians #RSKeepInTouch #ClassReunion #50thanniversary #schooltour #community