Reading School awarded Sunday Times  Southeast  State Secondary School of the Year 2022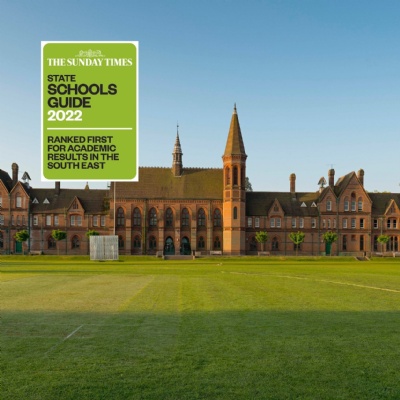 Reading School is judged to be in 7th place on the 2022 national table of state secondary schools, according to The Sunday Times, based on an analysis of examination results over time.
| | | | | | |
| --- | --- | --- | --- | --- | --- |
| Regional rank | School name | Town | A-level A*-B (%) | GCSE A*/A/9/8/7 (%) | 2022 national rank |
| 1 | Reading School | Reading | 91.4 | 86.3 | 7 |
| 2 | Tonbridge Grammar School | Tonbridge | 89.1 | 79.6 | 11= |
| 3 | Kendrick School | Reading | 83.0 | 87.0 | 15 |
| 4 | Dartford Grammar School | Dartford | 91.8 | 67.2 | 17 |
| 5 | The Judd School | Tonbridge | 86.9 | 76.4 | 18 |
| 6 | Dame Alice Owen's School | Potters Bar | 84.1 | 68.9 | 29 |
| 7 | Hockerill Anglo-European College | Bishop's Stortford | 87.5 | 54.3 | 37 |
| 8 | Dr Challoner's Grammar School | Amersham | 79.4 | 69.3 | 40 |
| 9 | Tunbridge Wells Girls' Grammar School | Tunbridge Wells | 78.8 | 69.3 | 41 |
| 10 | Sir William Borlase's Grammar School | Marlow | 77.0 | 70.6 | 44 |
Table above: The Top 10 state secondary schools in the Southeast (2017-2019) with 2022 National Rankings
High performance in terms of academic excellence is illustrated in the results between 2017 and 2021. This year 96.1% of all GCSE students achieved grades 9-7, 83.5% of grades achieved were 9-8 and 54.25% at the highly coveted grade 9.  In addition, over 96% of all A-Level students achieved A*-B grades, over 84% achieved grades A*-A and 45% achieved A* grades.
With our outstanding A-level results being a key factor in the award, Head of Sixth Form, Alun Lloyd commented:
"We are delighted with this award, which recognises the outstanding outcomes our students always achieve and celebrates the exceptional staff who make Reading School such a special place to be educated. All of our Sixth Form students benefit from the wide range of opportunities available here. Additionally, we are fortunate to have a thriving boarding community at the School, and I am very proud that their A-level outcomes have been notably impressive in recent years."
Undoubtedly credit goes to the whole Redingensians community (including the students, parents, Old Redingensians and all our staff, governors, and supporters of Reading School). It is recognised that we have developed a culture of sustained high performance that is shaped by a dual commitment to academic excellence and building people of character and substance.
A great deal has changed since it was founded in 1125, but our core values have not. Academic excellence is achieved through hard work and perseverance; Integrity is demonstrated through resilience and service; leadership is encouraged through, ownership and decision-making; and community is strongly evident through kindness and respect, to fulfil our mission to educate young men in the Southeast of England regardless of their social, cultural, religious, and financial background.
With over 1100 students, including 82 boarders, we understand that high performance and wellbeing are linked and COVID has propelled inclusion and mental health to the forefront of our approach. Thus, we continue to foster a sense of belonging by creating a culture where differences are celebrated and promoting wellbeing through our inspirational approach to the curriculum including Floreat and our electives programme.
We encourage independence and aim to develop a life-long love of learning. Lessons are taught by academic specialists with a passion for their subject, and teaching goes well beyond the classroom, offering our students the best preparation for the very top universities, including Oxbridge, the Russell Group and abroad to Harvard and Yale.
Mr A M Robson (Headmaster) is particularly proud that Reading School is not just a centre of academic excellence, but also prioritises the education of character. He commented:
"All our students flourish through the distinctive, integrated approach to educating young people that we term the Reading Way. Our students 'Learn, Lead and Serve' and look to put our values into action. As a state school, we are committed to providing opportunities for students to flourish, and we champion social mobility through our approach to shaping 'Future Stories'."
If you are interested in partnership or sponsorship opportunities with Reading School, please contact Jas Chhokar (Society Manager) at develoment@reading-school.co.uk.
To remain connected to Reading School and the Old Redingensians community whose network and wisdom may be of profound benefit in the future, please join our Reading School alumni through LinkedIn and connect with a world of opportunities through people and knowledge by joining the  Reading School Alumni Society.
Parent Power is widely acknowledged as the most authoritative survey of the country's highest-achieving schools. As well as assessment of all academic results on a school-by-school basis, Parent Power enables parents to compare the performance of a given school with other schools in the same town, local authority or nationally. There are also live links to school websites and schools' most recent inspection reports.
A fully searchable national database by school name, local authority, town and postcode, together with regional rankings are available to Times and Sunday Times subscribers here.
#WeAreRedingensians #ViaRedingensis #BuildingGoodMen #ReadingSchoolFamily #AcademicExcellence #Integrity #Leadership #Community #ParentPower #Boarding #ReadingSchoolAlumni #OldRedingensians #SchoolsGuide #TheSundayTimes #SixthForm