Reading School prepares students for virtual interviews as it hosts MMI circuit via Zoom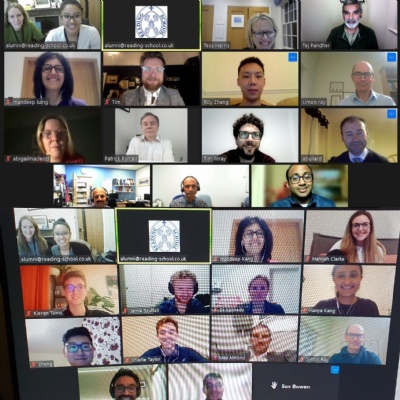 A huge thank you to Old Redingensians, Tim Cresswell (OR 2000), Professor Simon Ray (OR 1977), Roy Zhang (OR 2015), Dr Baltej Pandher (OR 1991), Dr Tim Wray (OR 2005), Charlie Taylor (OR 2015), Dr Jamie Scuffell (OR 2009), Dr Max Almond FRCS (OR 1998), Seth Peiris (OR 2017), Kieran Toms (OR 2015) and Zhenghao Wang (OR 2015).
We also deeply appreciate the help of Hannah Clarke, Hanya Kang, Mandeep Kang (Teacher of Biology), Dr Cliodhna Kennedy (Teacher of Biology), Dr A Bullard (Head of Science at John Hampden Grammar School). We cannot thank our Doctors from RBH enough who participated despite having very busy schedules. Thank you, Dr Deepak Ravindran, Dr Tess Harris, Dr Ravi Kumar, Dr Chandan Yaliwal and Dr Abigail Macleod from the Royal Berkshire Hospital.
A special thank you to former parent, Dr Patrick Purcell, who zoomed in from his holiday in Florida to support our students! Thank you so much.
This is the second year for the event to be held virtually. Multiple Mini Interviews went virtual last year, for the first time in November, due to the pandemic. The event is co-managed by the Reading School Medical Society led by Ms J Pickering and the Society Office. Students hone their interview skills with help from staff, alumni, and industry professionals.
At Reading School, our MMIs consist of 4 short interviews, which take around five minutes each. The 12 interviewers sit at 'stations' and the interviewees move between them. Each 'station' may involve answering a question on topics like the NHS, ethics, media and giving valuable suggestions and advice on communication and improving their interview skills prior to their real interview with leading universities.
Interviewer and Old Redingensian, Dr Baltej Pandher said, the process allows him to give back to his old school.
A special thank you to Piatrice and Jas in the Society Office for coordinating the evening and Ms. J Pickering (Teacher of Biology and Head of Medics) for arranging the interviews.
If you are interested in helping with MMI practice sessions, or traditional mock interviews in the future, please email events@reading-school.co.uk/ or sign up to the alumni portal at https://alumni.reading-school.co.uk/ to select what you are most interested in supporting e.g. careers mentoring, supporting the forthcoming Careers Convention in March 2022, mock interviews, providing work experience etc.
We wish all our students undertaking interviews over the next few weeks, the best of luck.
#WeAreRedingensians #ReadingWay #ReadingSchoolFamily #MMI #Medicine #RSKeepInTouch #OldRedingensians #interviews #RSGiveback #Careers