50th Anniversary Celebrations for the Class of 1978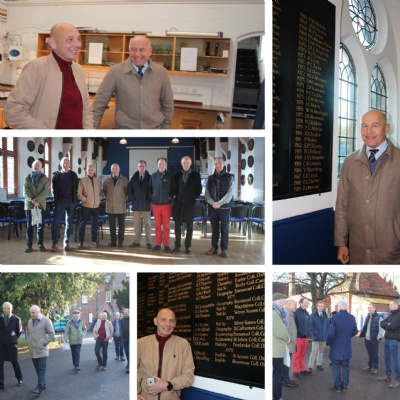 On Saturday 4th December, 8 Old Redingensians from the class of 1978 returned to Reading School for a tour of the school, to celebrate their 50th anniversary since starting Reading School in 1971.
Old friends, school tours, and countless memories later, the weekend proved to be a nostalgic homecoming highlighted by conversations between alumni who had not spoken in half a century.
Mr A M Robson (Headmaster), Jas Chhokar (Society Manager) and Piatrice Hutchinson (Society Assistant), and Jonathan Roberts (Estates Manager) led the group around the school as they visited the Kirkwood Room, Big School, East Wing Boarding House, as well as the new, Philip Mitchell Science Building and The Lecture Theatre.
Memories from the day included antics in the physics labs, the prefabricated science buildings which they were delighted to see had now gone, how they had to entertain themselves during the power cuts, whilst in boarding. OR James Mossman (1971-1978) was proud to see his name and his brother's name on the school captaincy board. Whilst David Gilbert also stopped to see his name on the Honours Board for winning a scholarship to read Geography at St Catherine's College at Cambridge.
It was lovely to see our ORs proudly sharing stories from their schooldays and accomplishments beyond Reading School, hearing about their families, career journeys, and travels. Mark Arnett travelled from Belgium to join us and provided some delightful Belgium chocolates.
The tour concluded in the Chapel.
The tour of the school was followed by a reunion lunch at the Rams kindly arranged by James Mossman.
Mr A M Robson (Headmaster) commented:
"The Class of 1978 exemplifies the view that each of us is part of an unbroken and unbreakable chain of people who share an identity and culture. The ethos of belonging is evident through our shared values over time through membership of the Reading School family. I was so pleased that they fully supported our commitment to maximizing opportunities for pupils from disadvantaged backgrounds. Certainly, the Class of 1978 who participated in the 50th Anniversary reunion is fine ambassadors of Reading School."
A special thanks to Alumni Ambassador and Former School Captain, James Mossman (OR 1971-1978) for working with the Society Office to arrange the milestone reunion, and we look forward to many of you returning in July 2022, with those that we are unable to make it on this occasion.
A photo album of the tour can be found here: 50th Anniversary Reunion & School Tour- 1971-1978 | Photos | Reading School Alumni Society (reading-school.co.uk)
Couldn't attend your reunion? Would like to know about other events and alumni news? Join the Reading School Alumni Society, where you can reconnect with your classmates and update your contact details to receive news on future events.
On Saturday 9th July 2022, Reading School will welcome all Old Redingensians back to school for the very first, Grand Reunion Day. Highlights include tours, lectures, live music, and cricket. If you are interested in playing cricket and want to help build a team from your year group, please let us know.
If you (or someone you know) are interested in assisting the Society Office with planning a reunion or school tour, please contact Piatrice Hutchinson at alumni@reading-school.co.uk.

#WeAreRedingensians #ReadingSchoolFamily #ReadingSchoolAlumni #RSKeepInTouch #OldRedingensians #reunions #schooltour #alumni #nostalgia #schoolreunions