Sixth Form Admissions – September 2022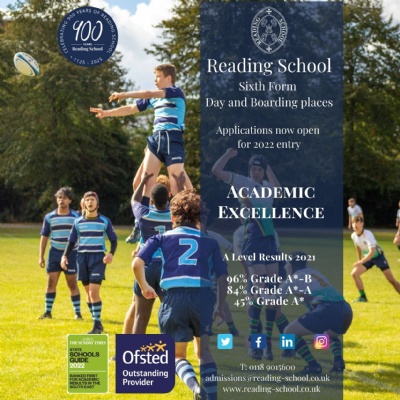 Reading School welcomes applications from external candidates for entry to our Sixth Form in September 2022- Weekly Boarding and Day Places Available
Weekly boarding in the Sixth Form provides students with the perfect opportunity to gain independence, self-motivation and academic discipline. Our Boarders are consistently the best young leaders whilst participating in most sports, music and enrichment activities, as well as achieving outstanding academic results.
Here are some testimonials from previous boarders:
"Boarding has not only supported me throughout my current A-level studies but also given me excellent preparation for my future at university. Being surrounded by my peers as well as teachers covering a wide range of subjects has provided me with a network of support that I've come to realise is a unique advantage boarders have. Boarding has made my Sixth Form experience less stressful and more enjoyable."
Former student, Andrew
"Boarding really prepares you for university by giving you the opportunity to be independent, responsible and resilient. We are given more responsibility, such as organising house events but are also given more freedom to do things like go to town or to the gym. I believe that boarding has really developed me as person, especially my leadership skills, and has prepared me for the future."
Former student, Albert
The deadline for applications is Friday 28th January 2022.
For further details about the Sixth Form and Boarding at Reading School, please click here: Sixth Form Information.
To apply for a place in the Sixth Form, please click here: Sixth Form Application Form.
Email: Admissions@reading-school.co.uk
#WeAreRedingensians #ReadingSchoolFamily #SixthForm #stateboarding #boardingschools #academicexcellence #community #admissions #stateschoolsguide #parentpower