Wishing you a Merry Christmas 2021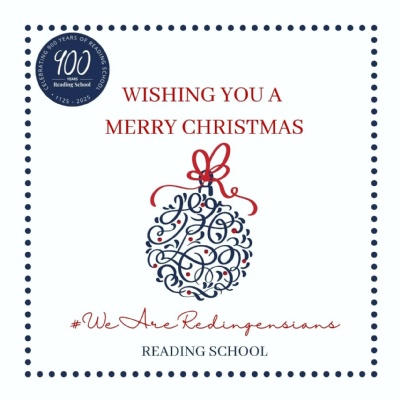 We would like to take this opportunity to wish the Reading School community a happy, healthy and peaceful Christmas and New Year.
We express our sincere thanks and appreciation to all our staff, students, parents, governors and Old Redingensians who should take great pride in the impact they have made on Reading School through supporting the school in a myriad of ways. We are grateful for all that you bring to our community.
We could not be more grateful with the support we have received from the Reading School Parents Association, Old Redingensians Association and The Reading Foundation.
In particular, we thank all the teachers, staff and pupils who continue to adapt and navigate the ongoing challenges. We are unbelievably proud to be a part of a community that has supported each other during this year and will continue to do so and we are thankful to be a part of such a caring community.
Carol Service 2021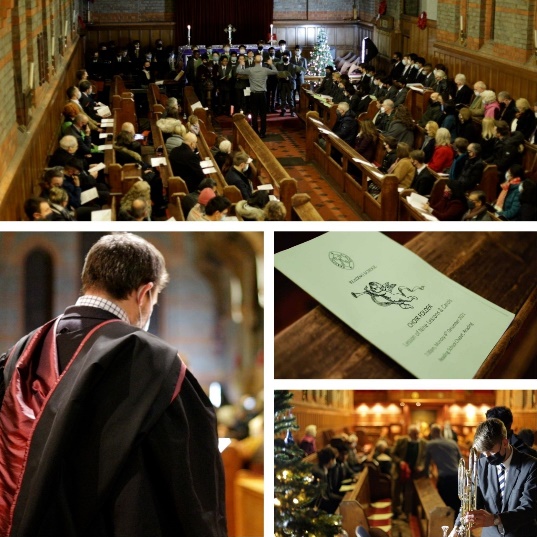 At the beginning of December, we saw the return of Reading School's in-person Carol Service, after a hiatus due to the pandemic we marked this special occasion as the start of Christmas, led by Mr O Griffin (Director of Music) and Mr Newman (Teacher of Music).
Head Chorister Nandan K (8C) sung the opening treble solo verse of Once in Royal David's City. The service then proceeded with carols from the Senior, Junior and Chapel Choir, accompanied with the organ superbly played by James T (10E).
James T (10E) said:
"I thought it was a great experience, and brilliant to be able to all be back together to celebrate Christmas! The choirs were amazing, and it was a pleasure to accompany them. Thank you to Mr Griffin and Mr Newman for running such a super service!"
James G (10S) said:
"It was a wonderful festive occasion and was an opportunity to celebrate the music department's hard work this year."
Milan G (10E) said:
"I loved singing back in our historic Chapel. It reminded me of the great times in earlier years and I am so glad that the audience enjoyed our performance."
Thank you to Nandan K (Head Chorister), Thomas Adams (Head of Chapel Choir), Adam Paterson (School Captain), Mrs R Gupta (Parent & RSPA representative), Dr C Kennedy (Teacher of Biology), Mrs C Woodcock (Director of Finance), Mr J Chadwick (ORA Vice President), Mr B Kenwrick (Chair of Governors) and Mr A Robson (Headmaster), who read the nine lessons during the service.
The retiring collection at the end of the service raised £315 in support of our international partners, Sure24 and RainEdge High School in Nakuru, Kenya. Our friends and partners at Sure24, have been severely challenged by the impact of Covid-19 and we thank you for your support.
A special thank you to Mr. Oliver Griffin (Director of Music) and Mr James Newman (Teacher of Music) for coordinating this event and Mr. D Singh (Community Relations Manager) for videography and photography of this event.
Please click the link to view: Carol Service & Lessons 2021 and also see attached the Carol Service programme 2021.
Supporting our community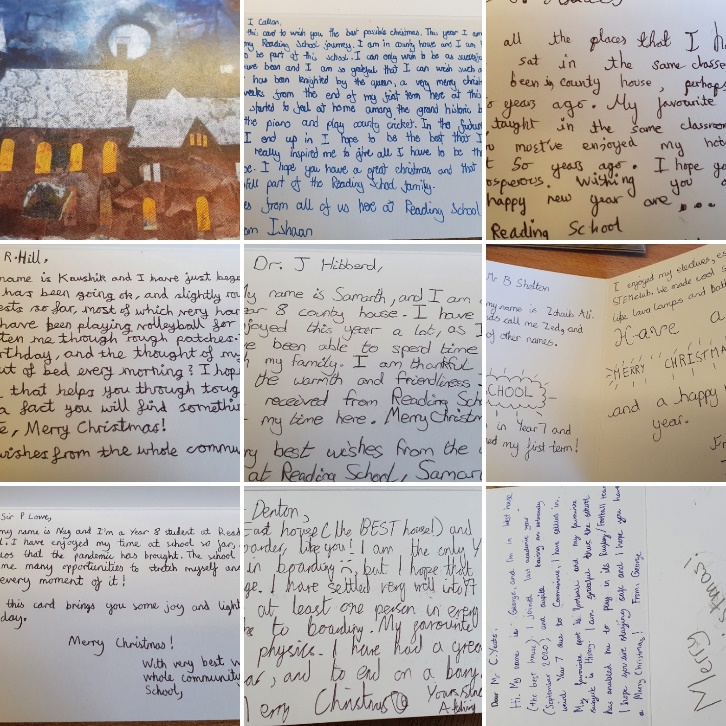 During December, Year 7 and Year 8 students wrote Christmas cards to over 400, Old Redingensians, over the age of 65, to share the start of their journey at Reading School and to let you know we are thinking of you.
The affinity campaign launched last year, acknowledged that so many of us had spent long periods in isolation due to the pandemic and our youngest members of our community wanted to spread Christmas Joy.
The last two years has highlighted that connecting with others is more important than ever and our youngest members of our community wanted to connect with our oldest members by spreading some Christmas cheer.
The Headmaster and the Society Office would like to thank everyone who has reached out to the School to express their joy and thanks on receiving Christmas cards this year, from around the world. We are always delighted to hear from you.
A huge thank you to the Heads of House and Tutors in Year 7 and Year 8 who coordinated and supported the students. For all the logistics and organisation, a special thank you to Mrs J Chhokar (Society Manager) and Miss Hutchinson (Society Assistant), supported by Mrs D Raval (Receptionist) and Mrs P Hickman (Admissions).
Some Old Redingensians have expressed wishes to write back to those students from whom they have received cards. If you have received a card and would like to do this, please address any responses to Mrs Jas Chhokar (Society Manager) at the Reading School address or email alumni@reading-school.co.uk and we will ensure that these are passed on.
Old Redingensians are also invited to join the Reading School Alumni Society to keep up-dated with events and news and to make sure details are kept up-to-date.
Supporting #Presents4Patients at the Royal Berkshire Hospital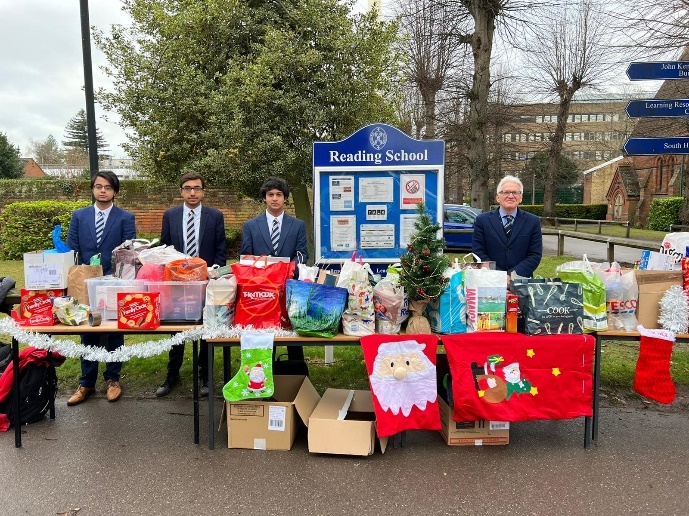 As one of the Royal Berkshire NHS Foundation Trust's closest neighbours, the Reading School community supported the Christmas Gift Tree Appeal - #Presents4Patients donating gifts for younger patients and the elderly.
This appeal was successfully led by Mayank M (Year 12) the gift collection contributed to presents for the young and old who would be spending their Christmas in hospital.
Mayank M (Year 12) said:
"The Christmas Gift Collection particularly resonated with me because I, like countless others, find the festive season to be a truly special time of year enjoyed with friends and family, and so I felt a strong urge to help brighten Christmas for those who would sadly be in hospital. Due to COVID-19, visiting for patients has been restricted and so it was more important than ever to help those in hospital over Christmas.

I remember entering the school in the morning to set up with the hope to receive at least a few gifts. It's safe to say the Reading School Community demonstrated to me that morning that their generosity and compassion knew no bounds. To receive so many gifts that four tables proved to be too few made me so grateful to be part of such an amazing community that came together on Tuesday to help support a worthy cause. In the end we filled up four tables, with many more gifts placed in boxes underneath. The total number of gifts surpassed an incredible 500, with a variety of toys, clothes, chocolates and books donated generously by students, teachers and parents.

I would like to thank the teachers at Reading School, and of course the Headmaster, Mr Robson, for fostering qualities of compassion, generosity and selflessness among its students."
Thank you to everyone who contributed once again demonstrating the Redingensians' generosity.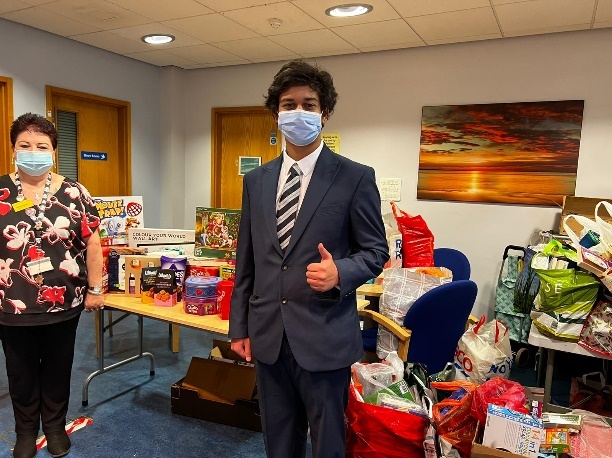 Well done to Mayank on representing excellent leadership skills and following through on his passion to support the sick during the festive period, with some logistical help from his kind mum.
Thank you to the Society Office and Community Relations Office in supporting.
Together, we contributed to helping the hospital exceed its goal in collecting over 800 gifts for its patients whilst signifying the incredible community spirit and generosity Reading School has to offer.
Supporting Children in Care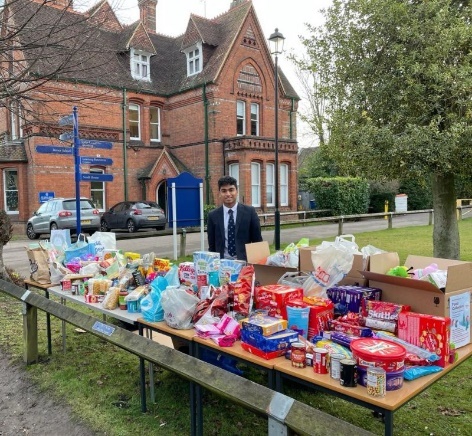 The Reading School Community came together to support Here4U, Wokingham Borough Council's Children in Care Team. Led by Community Prefect, Ransen (Year 13) the food collection contributed to Christmas Hampers being packed and delivered by Here4U to Children in Care and Care leavers.
Thank you to everyone who contributed once again demonstrating the Redingensians' generosity.
Well done Ransen on demonstrating exceptional leadership skills from start to finish working with the Community Relations Office.
Christmas Jumper Day/Non School Uniform raising funds for Sure 24 RainEdge Orphanage in Kenya
The Student Charity Committee, led by Archie T (13VGG) and the Society Office organised a Non-uniform Christmas Jumper Day to support our friends to deliver a quality education and bring hope to orphans, including those orphaned or made destitute because of the pandemic.
Year 13 Charity Prefect, Archie T (13VGG) said:
"In Kenya there are more than 800 registered orphanages, with an estimated 45,000 children according to the government. We may not be able to make a difference to the whole world, but we can make a significant impact in the life of one child in Kenya, by making a small donation. It's a child's right to live in an environment where they can thrive and know that they are safe and protected. We welcome your support for our partners in Kenya."
With the support of the Redingensians community we just beat our target of £3,000 raising £3,083. Well done to the whole school community for supporting such a worthy cause.
This page will close after the Christmas period in case anyone still wishes to contribute. Please click the link: Phoenix Community Care supporting Sure 24
We hope that over the break you have an opportunity to rest, recharge and reconnect with your friends and family.
With warmest Christmas wishes to each and every one of you, near or far, a very Merry Christmas and Happy New Year. Thank you for all your support and for being a part of the #ReadingSchoolFamily.
#WeAreRedingensians #ReadingSchoolFamily #OldRedingensians #ReadingWay #Christmas2021 #BetterTogether #WeAreProud #Community #Christmas