Reading School V Reading FC Academy: The 1872 Rematch- Wednesday 23rd February 2022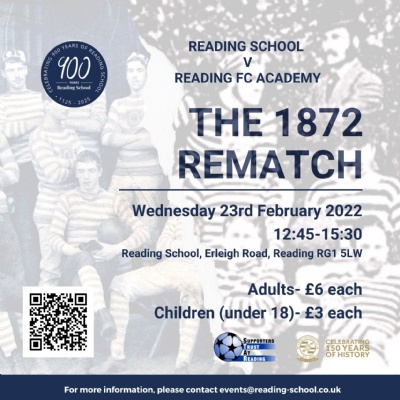 This event, hosted by Reading School on behalf of the Old Redingensians Association, forms part of both the celebrations of the 150th anniversary of Reading FC and 150 years of Reading School on the Erleigh Road site. The match aims to be as authentic as possible, with the first half of the 80-minute game played under the set of laws used by the Football Association in late 1872 (no penalty area, no nets, 13 a side, no subs, line-outs for throw-ins). The second half of the match will be played based on modern laws.
16 limited edition replica shirts, manufactured by Macron, will be worn by the RFC Academy team and will be available for sale/auction later.
Event Details:
This event will take place at Reading School. Gates open at 12:45pm and kick-off is at 1:30pm.
This event is only open to members of the Redingensians community and Reading Football Club season ticket holders.
Hot food and beverages will be available at this event. Please bring cash to purchase.
Tickets:
Adults- £6 each
Children (under 18)- £3 each
Programme (includes the 1872 rules of football)- £3 each (bought with ticket or on the day)
Please bring your ticket confirmation along with you to the event. Entry may be denied otherwise and you will need this to collect your prepaid programme.
To book your tickets and programme, please click here: 1872 Rematch tickets
Parking:
Limited parking is available on-site for staff, VIP guests and disabled badge holders. Additional parking for all visitors is available at London Road Campus in the White Gates Car Park at the University of Reading. Please ensure you display the parking permit found here: Parking Permit. Please note that parking spaces are not guaranteed.
The window of parking will be between 12.00 and 16.30 and anything parked prior to 12.00 may receive a PCN. Attendees of the Reading School event vehicles will need to display a parking note displayed on the dashboard.  Any vehicle not displaying the parking note may receive a PCN.
All vehicles are parked at the owners' risk and the University will not be liable for any damage etc. Please use the parking area adjacent to the entrance to Whitegates (near the Great Hall and LO33).  A campus map has been attached: Parking map 
COVID:
To ensure the safety of our guests, we request that all attendees take a lateral flow test 48 hours before the event and only attend if the result is negative. This includes those that have already been single or double vaccinated.
Face coverings are recommended as they can reduce the spread of infection. Please use your judgment in deciding where you should wear one.
Please note that photographs and footage will be taken and used for Reading School publications, social media and communications. If you (or your guests) do not wish to be photographed, please inform us at events@reading-school.co.uk.
In association with Reading Football Club and STAR
If you have any other queries, please contact events@reading-school.co.uk
#WeAreRedingensians #ReadingSchoolFamily #ReadingWay #OldRedingensians #readingfc #RSport #royals150 #football