A Level Results – August 2022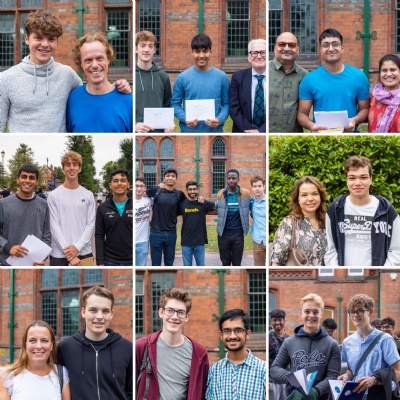 Congratulations to the Class of 2022 for attaining exceptional A Level examination results.
Students at Reading School have once again achieved truly outstanding A Level results, with 25% of the cohort attaining A* grades in all their subjects, and 50% of all grades awarded being A*. Overall, 93.3% of all entries were awarded A*-B grades.
In contrast to national headlines about students being disappointed with university admissions this year, 90% of our students met or exceeded their entry requirements for one of their two chosen courses, with 85% of these attaining their requirements for their first choice university.
Whilst the School not only has an enviable reputation for STEM subjects, it continues to excel in the Arts, humanities and Languages. For instance, 100% of Art and Music students achieved A* grades, and 78% of Drama grades were also A*. 95% of Spanish, French and German grades were A* or A. In addition, 97.1% of History grades were A*-B and 100% of English Literature students achieved A*-B.
Impressively, 57% of Mathematics grades, 53% of Further Mathematics, 51% of Physics, 51% of Economics and 50% of Computer Science candidates also achieved A* grades.
Mr A M Robson (Headmaster) said:
"This is one of our strongest ever sets of exam results, which is particularly impressive given the significant challenges learners have faced as a result of the pandemic. There are many different pathways to success and today we are celebrating our students' resilience as well as the full breadth of their achievements.

I would like to thank all the staff at Reading School for their exceptional commitment to our students, and thank parents for their support and trust during times of great trial. In addition, we must thank our Governing Body, led by Mr Robert Kenwrick, for their strategic oversight and direction. I wish all our students the very best for the future, whatever their next chapters hold."
Mr A Lloyd, Head of Sixth Form added,
"Our students' adaptability and perseverance have been key attributes which will hold them in good stead for the future. We believe in building character, as illustrated by our recent national award for character education. Indeed, the personal character development upon which academic success is founded, is what we are most proud of. None of this year's success would have been possible without the support of our dedicated Sixth Form team, Mr D Whitehorn, Miss A Stratford and Mrs H Majarossy-Young, as well as Miss J Pickering, our Sixth Form Tutors, the Society Office and Mrs E Turner, our Exams Officer."
With reference to some individual success stories, the following students achieved exceptional results:
Dinindu Witharana who was the highest performer nationally in the OCR Economics exam.
5 A*s were attained by Adedeji Balogun, Daniel Dunbar and Eashan Ray Chaudhuri
4 A*s achieved by Ewan Azlan Luk, Toby Caswell, Matthew Copeman, Liam Devine, Rovindu Hettiarachchi, Isaac Jackman, Arran Johnson, Rahul Joshi, Arjun Judge, Mannan Karwa, Oluwaseun Joshua Kayode-Aliu, Anirudh Khaitan, Brandon Koh, William Lockwood, Jude Lyden, Nihal Mahajan, Vaibhav Mahajan, Thomas Masters, Paolo Minhas, Eesh Mishra, Robert Moore, Viraj Nerkar, Joshua O'Donoghue, Neil Paliwal, Roshan Patel, Aaryan Purohit, Harish Raghu, Ebinezer Rajaram, Aryam Rege, Shaunak Satish, Finbarr Sheedy, Kathiir Sivanehru, Archie Thorpe, Mark Tran, Muhammad Utomo, Stratos Voudouris and Dinindu Witharana.
3 A*s were achieved by Aditya Singh, Jacob Merchant and James Gray.
We are also very proud of those who have gained places on the most competitive courses this year, with over 40 students going to read medicine or dentistry, or securing places at Oxbridge.
Having attained a plethora of places at a range of exceptional universities both in the UK and abroad in a variety of subjects, we look forward to seeing the ways in which they grow academically over the next few years, and go on to use their skills for the common good in the future.
We wish the Class of 2022 well for their future.
To remain connected to Reading School and our Old Redingensians community whose network and wisdom may be of profound benefit in the future, please join Reading School LinkedIn and connect with a world of opportunities through people and knowledge by joining the Reading School Alumni Society.
We are exceptionally proud of all our students and recognise that some cultures wish to donate to charities as a part of their celebrations. Reading School has charitable status, and we would welcome any donations to supporting future education at Reading School. You can make a donation by clicking here.
For photos from this morning please click: A Level Results Day 2022 Photo Gallery.
#Alevelresultsday2022 #AlevelResults #ReadingSchoolFamily #OldRedingensians #RSKeepInTouch #ReadingWay #WeAreRedingensians