House Music Competition 2022- Sunday 20th November 2022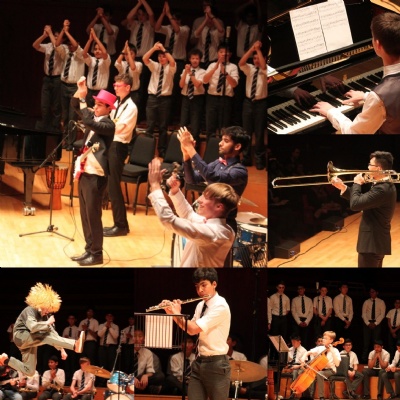 The House Music Competition is now in its 87th year and remains the largest event in our annual calendar.  After a two-year hiatus, we are returning to Reading's Hexagon Theatre on Sunday 20th November from 15:00-19:30.
The competition will see the usual array of outstanding performances from across our five houses.  Ensemble acts comprise the large and small ensemble based on Music from Film. Solo acts feature the Senior soloists (students in Year 11-13) and Junior soloists (students in Year 7-10).

Doors open to the public at 15:00 with the show commencing promptly at 15.30.

Tickets go on sale on Tuesday 1st November 2022 at 10am.

This event is greatly anticipated so to avoid disappointment don't delay booking your tickets – once they are gone, they are gone!
To purchase tickets, please click here- Reading School House Music Competition 2022 | What's On Reading (whatsonreading.com)

Programmes
Programmes will be available to purchase on the evening at £5 each. Please bring cash.
Snacks and refreshments will be available to purchase at the Hexagon kiosks.

Parking
Parking is available in the Broad Street Mall car park.

Theatre Regulations 
• Smoking is not permitted anywhere in the building.
• No photography, video, or tape recording.
• Please ensure all mobile phones are switched off for the duration of the performance.  

Photography & Videography
Please note that photographs and footage may be taken and used for social media and in our school magazine and communications. If you (or your guests) do not wish to be photographed, please contact the Society Office at events@reading-school.co.uk.

Further information will be sent out regarding final rehearsals taking place during the day for each House to students and parents participating on the day, before the show.

For any further queries, please contact Jas Chhokar or Piatrice Hutchinson at events@reading-school.co.uk.

Organised by Mr O Griffin (Director of Music) and Mr J Newman (Teacher of Music) and led by our senior House Captains.

We hope to see you there!

#WeAreRedingensians #ReadingSchoolCommunity #ReadingWay #RSHouseMusicCompetition2022 #RSEnrichment #Music #talent #musicperformances #secondarystateschools #students #grammarschool #Boarding