Congratulations to Old Redingensian, Fred Newbold (OR 2019) who has been selected to represent Wales at the Men's Hockey World Cup in India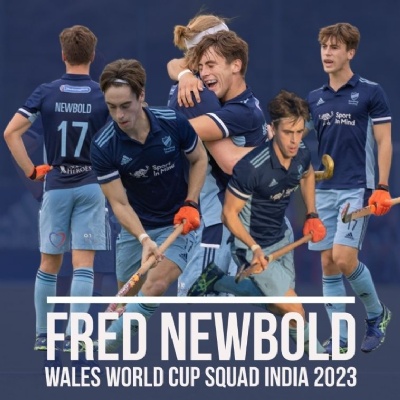 Fred left Reading School in Summer 2019, having been at Reading School since Year 7. Fred went on to The Queen's College at the University of Oxford, where he is currently studying for a Master's degree in Biological Sciences. Alongside his academic studies, he has played hockey for the Wales Senior Men's squad as well as being a part of the Great Britain Elite Development Programme, for athletes under 23.
Fred's first match in the World Cup is against England on 13th January. This will be shown on BT Sport at 11:30am UK time. In addition, the pool games will also be shown on BT Sport and are later on in January. We know we will be watching Fred's performance with great pride.
Fred started hockey before joining Reading School at Henley Hockey Club aged 8. He then played junior hockey right through to U21s representing both Wales and Great Britain. Fred has more recently, played his club hockey at Reading Hockey Club as part of the Men's 1st XI in the National Premier Division. Fred has represented Oxford University Hockey Club in weekly matches against other top universities and gained three consecutive Oxford Blues for hockey (for his participation in the Varsity Match). Aside from hockey, Fred has played football, rugby and cricket and during his time at Reading School he represented the school's first team for both football and cricket (as well as lacrosse).
We were delighted when Fred recently shared with us crucial skills that have assisted him during his sporting career:
"Two key values, character and leadership, have been fundamentally important in my sporting career. In elite sport, there are many ups and downs, specifically regarding selection and injury. Recently, for example, I was not selected to play for the senior Wales team at the Commonwealth Games and instead represented the U21s at the European Championships. Following this setback, I had to work on feedback given to me by coaches to come back stronger, and ultimately, having a strong character has contributed to my selection for the World Cup.

Leadership is a second trait of high importance. On the pitch, I have held many leadership roles. For example, in October 2022, I played in the Sultan of Johor Cup for Great Britain U21s and I was captain of the team for one of the games against the host nation, Malaysia. Being a leader in a sporting setting has given me confidence in both my day-to-day life and academic pursuits, which has been massively helpful for me."
Fred went on to share who has been his greatest influence and what advice he would give to younger Redingensians:
"At Reading School, I was massively influenced by the PE staff to keep playing sport alongside academics as it is important for physical and mental health. I've been able to travel to very interesting and diverse places with sport and could only have achieved this with the support of the sports staff at the school, in particular Mr S Allen (Head of PE). Finally, Mr A M Robson (Headmaster) also had a huge influence on me. His constant desire to encourage extra-curricular activity in the school setting through his support for the school's sports teams was huge in giving me the confidence to dedicate time outside of academics to sport.

My experiences with sport have shown that it is necessary to have passions outside of work, particularly in the school/university environment, to provide a good balance of wellbeing. My sporting commitments have kept my general organisation and time keeping in check, as well as the obvious benefits of playing the sport itself. If I was to speak to my Year 7 self, I would encourage him to continue to follow his passions in sport. To extend to a wider Year 7 cohort, I would encourage you all to find passions outside of the classroom and dedicate time to them alongside your studies, as you never know what incredible things they can lead on to."
Mr A M Robson (Headmaster) said:
"Fred, represented Reading School in the first teams for both football and cricket as well as holding a leadership role as a Prefect. He consistently volunteered his time to service, whether this was assisting younger students as a biology mentor or as a Future Stories mentor to pupils from local primary schools. He applied himself consistently and diligently to both his academic studies and the opportunities beyond the classroom, exemplifying the key values of Reading School.

We are incredibly proud of Fred and his achievements and we will be following his sporting career with much interest."
Tune in to the World Cup against England on 13th January 2023 on BT Sport at 11:30am UK time.
Photograph credit to Helen Ritchie Photography.
#WeAreRedingensians #ReadingWay #ReadingSchoolFamily #Hockey #HockeyWorldCup #UniversityofOxford #HockeyWales @readinghockeyclub #Leadership #Character #Belonging