Inspire Lecture – A Level Geography & Beyond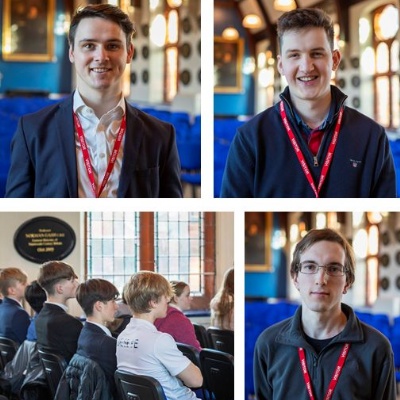 Reading School was delighted to welcome back three of our former students to deliver how A Level geography has contributed to their diverse careers, from Investment Management to Research to Transport Planning.
On Tuesday 31 January, we welcomed back three Old Redingensians who undertook A Level Geography as students at Reading School. They were able to share their experiences of the value Geography had in their diverse careers with our students and students from the Abbey School and Kendrick School. Samuel Steventon (OR 2015-2017), Edmund Lea (OR 2011-2018) and Matt Dapré (OR 2011-2018). The Inspire Lecture was led by Head of Geography, Dr K Young and supported by Teachers of Geography, Mr Kees Luteijn, Mr Jack Ginger and the Society Office.
Samuel Steventon (OR 2015-2017) spoke of how geography has enabled him to study and make an impact within his organisation, Green Investment Partners.
Edmund Lea (OR 2011-2018) shared how his current research project has collected data from satellites which have been used to map mountain ranges that lie beneath the Antarctic Ice Sheet using GIS.
Matt Dapré (OR 2011-2018) spoke of how real-world environmental issues can be tackled with the creative and ambitious use of geography.
On behalf of the Geography Department and Reading School, we thank Sam, Edmund and Matt for returning to their school, in order to share their experiences with our current students.
If you missed these inspiring talks, please click the link below to catch up:
Sam Steventon – Investment Manager
Edmund Lea – MSc Student at Durham University
Matt Daprè - Transport Planning
If you would like to share your professional expertise with our students through a short talk, workshop, tutorial or inspire lecture, please contact Jas Chhokar or Esther Chong at alumni@reading-school.co.uk.
#WeAreRedingensians #ReadingWay #geography #ALevelGeography #careers #inspirelectures #ReadingShoolAlumni #OldRedingensians #RSKeepInTouch #Excellence