The Ethics Cup 2023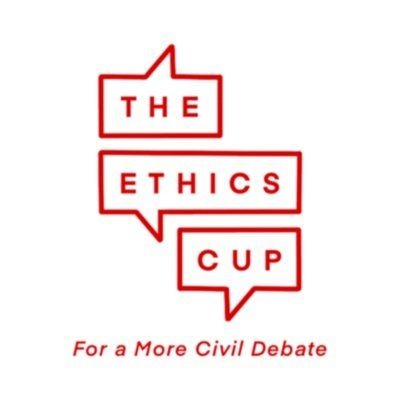 The Ethics Cup promotes interest in philosophy amongst secondary school students and to model and promote civil discourse around current social issues.
According to The Ethics Cup website, it is founded on three founding principles:
(1) In a multicultural democracy, disagreement about important moral issues is inevitable.
(2) The members of the public should not shy away from expressing, in the public forum, their convictions on these issues.
(3) As a society we could make quicker progress toward reaching mutually acceptable resolutions of these disagreements, without creating resentment and hostility as a side effect, if more entrants in the public debate made use of the philosophers' toolkit–the attention to logic and fallacy avoidance, the back-and-forth cycle of argument-counterargument-revision, the principle of interpreting one's interlocutor's position as charitably as possible, etc. It isn't a debating tournament and is designed to reward not the ability to win an argument but rather the ability to thoughtfully advance debates on ethical issues of public concern.
The Ethics Cup gives students the opportunity to discuss topical issues during regional tournaments and Reading School entered a team of five talented sixth formers in January 2023. Josha G (12C), Branson R (12S), Lucca K (12C), Jonathan H (12C) and Luca Z (12C) won the regional final which took place at UWE Bristol, which led them to the finals at the University of St Andrews which took place on Thursday, 25 May. After preparing for the final for three months and competing in a day-long tournament, the Reading School Team went onto win the Ethics Cup 2023.
Josha G shared:
"I think I speak for everyone when I say that this was an invaluable experience. Coming from the regionals, we knew we had to up our game, and the standard was definitely much higher, but we had been preparing for months and that paid off in the end. We started with a tough match against a school that had previously won the competition, and that win fuelled our confidence, which allowed us to eventually progress through to the finals.
This was the biggest match, tackling heartfelt issues regarding addiction and liver transplants. I don't think anything quite comes close to the suspense felt in the moments before the judges announced the winner, as it really could have gone any way! We are immensely grateful for the opportunity not only to engage in complex moral issues, but also to experience the character of a city which we may not otherwise have had the chance to visit. We would also like to thank Ms G Ng, Mr T Casemore and Mr B Miller for their continued support and guidance."
Congratulations to Josha G (12C), Branson R (12S), Lucca K (12C), Jonathan H (12C) and Luca Z (12C) for winning The Ethics Cup 2023.
For more information about The Ethics Cup, please visit https://ethicscup.wp.st-andrews.ac.uk/